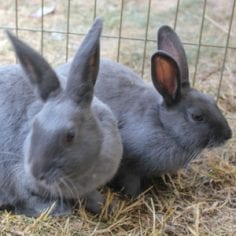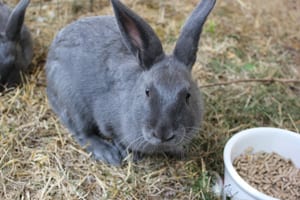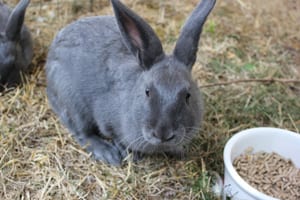 This is a very special "tail" featuring six beautiful animals and two amazing animal lovers with huge hearts. Kelly and Brad are regulars at the BC SPCA Alberni-Clayoquot Branch. Over the past year, they have welcomed three bunnies, a senior cat, and two budgies into their home.
Pebbles and Wilma were the first to be adopted by Kelly and Brad. These sister bunnies were only two-months-old when they arrived to the BC SPCA Alberni-Clayoquot Branch with their other sibling Bunbun. Both Pebbles & Wilma grew up in shelter care and once ready for adoption, waited 50 days before Kelly and Brad discovered them and knew they would make a great addition to their family.
It wasn't long after their first meeting Pebbles and Wilma were officially adopted and settled into their new forever home. With four dogs at home already, Kelly and Brad were pretty busy and very happy caring for everyone.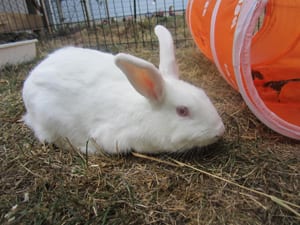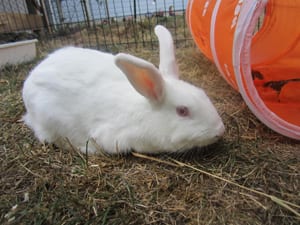 Blue was the next addition to this animal-loving household. He is a beautiful pure white bunny. Blue was born in the BC SPCA Nanaimo & District Branch but made his way to the BC SPCA Alberni-Clayoquot Branch through the Drive for Lives program. Carrot-loving Blue is very sweet and bonded with staff members and volunteers very quickly. Unfortunately no one was interested in adopting this sweetheart until Kelly and Brad stepped in. After talking with some experts about introducing bunnies to other bunnies, they decided to give Blue a home since they had lots of room.
Elden was next to win the hearts of Kelly and Brad after being in our care for 54 days. Elden is a senior cat who was brought to the branch as a stray and sadly was never claimed by a guardian. Elden had dental work and a hernia repair while in our care and spent some time recovering with a volunteer foster family. Although Elden is such a beautiful and sweet cat, no one was interested in adopting him and taking on the challenges of a senior pet.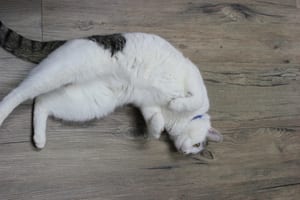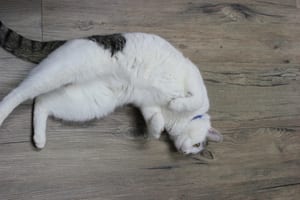 Kelly fell in love with Elden and couldn't leave him at the shelter anymore. She convinced Brad to consider adopting him. After finding out Elden is good with dogs, everyone was on board and it was official. Elden went home to his new forever home to join the dogs and the bunnies.
The most recent adoption was two budgies who were transferred from the BC SPCA Victoria Branch. Kelly and Brad had just lost their budgies and had an empty cage and space in their hearts to fill. They saw the birds Berry and Zoey in Victoria, and asked to have the birds transferred to the BC SPCA Alberni-Clayoquot Branch through the Drive for lives program. Once Berry and Zoey arrived, they were quickly whisked away to their new forever home and now are known as Delilah and Sunny.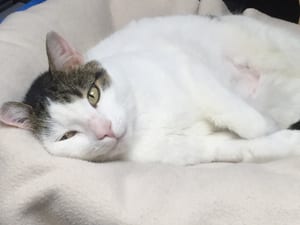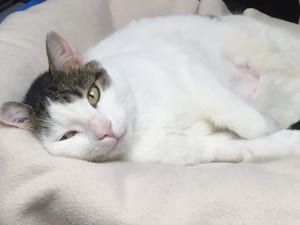 Kelly and Brad have sent this report of how everyone is settling in together:
The bunnies are bouncy, the birds are happy with all their toys, and Elden is one of the pack. He sleeps with us and two dogs on the bed at night.
We want to acknowledge Kelly and Brad and say thank you for opening your hearts and home so many times by making adoption your first option. We are so happy for all the animals you discovered and gave a second chance at a great life.