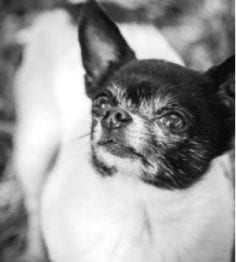 Peanut came into the care of the BC SPCA Surrey Branch in early January 2012 as a result of a cruelty investigation. Her adoptive guardian (a former BC SPCA staffer) picks up the story from here in the wonderful update she has sent us about Peanut:
Peanut had had a badly broken left front leg which hadn't been tended to for two months. At the time she came in weighed a fraction over one pound and she was a three-year-old dog.
Long story short she was abandoned by her owner at the vet. I worked for the BC SPCA at the time at the Surrey branch and I was given the call to pick the dog up by one of my coworkers who knew I was looking for a chihuahua. At the vet I was shown a skinny, scrawny chihuahua who looked like her ears were the biggest thing on her. My first look at her and I instantly knew she was coming home with me. I've never looked back.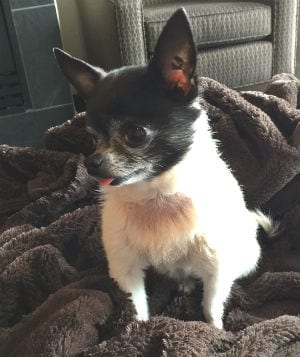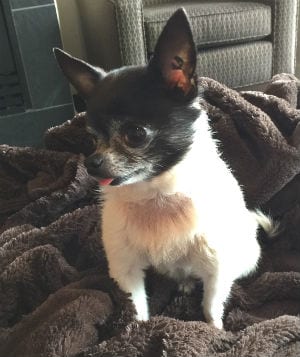 She was and continues to be the sweetest, feistiest little character of a dog and although she is a bit of a medical nightmare I could absolutely not think of a better dog or a better match for me and my family. I formally adopted Peanut on April 30, 2012. She broke the same leg two more times that first year. She will most likely have to have her leg amputated in the next six months.
But Peanut is so much more than her medical issues, she very rarely lets these issues slow her down or bother her. Peanut loves people and people love Peanut. She has won over many people who say they don't like small dogs, including my husband who I met the same year I got Peanut. She and my husband are like two peas in a pod, it warms my heart to see how they both love each other.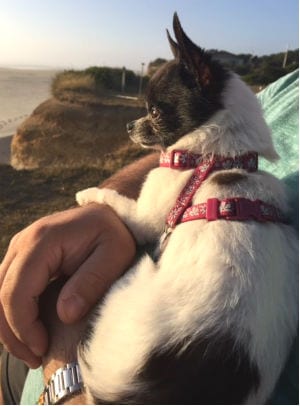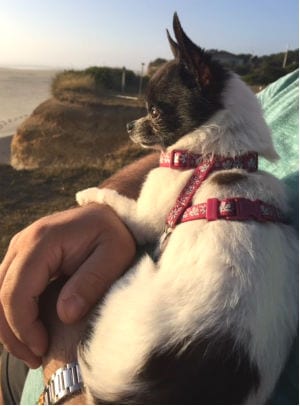 Peanut has more courage and strength in overcoming difficulties than most people have and she rarely becomes cranky about any of it. Peanut has shown me the benefit of just letting things happen as they will, not always being in such a hurry. When she was recovering from her surgeries I wanted her to heal quickly, but I realized that she was going to heal at whatever timeline her body chose. Peanut just took it all in stride. She would walk at the beach proudly sporting a shoulder to toe cast wrapped in Saran Wrap to keep it dry, people would stop us every few steps, Peanut would greet them then get on with the walk.
Peanut is my buddy, she is always by my side even when she's playing, she looks back to check in with me. She is a diva and if she doesn't get her way she has mastered sulking. Peanut loves travelling with us and has been to several US and Canadian destinations. She can snore as well as her dad and she is the biggest cuddler ever. We cannot imagine our lives without her. We were thrilled to have her as our ring bearer at our wedding in June; she stole the show!
Thank you so much for sharing Peanut's story and letting us know about the joy she is bringing to the people in her life. We so appreciate that you chose to make adoption your first option and we wish Peanut a quick return to health and a resolution to her leg issues.