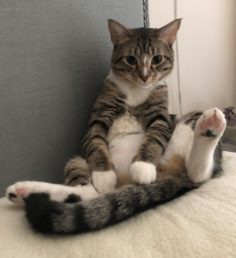 When we receive new animals into our care, it can be difficult to gage their true personality. They are often frightened, confused, defensive or simply shy.
Even though we try to make our animals as comfortable as possible, we know they do so much better when in a true home.
This was exactly the case for Patrick Stewart, a young, anxious cat surrendered to the BC SPCA Burnaby Branch in late 2018. However, this did not discourage Megan and her fiancé when they were looking to add a feline companion to their family.
Almost a year later, we have received a heart-warming story from Megan on how Patrick Stewart has impacted their lives:
My fiancé and I adopted Patrick Stewart in December 2018. The shelter staff told us that he was very anxious and easily triggered, but he seemed to let us pet him almost right away and we instantly fell in love with him.
We spoke to Sarah at the BC SPCA Burnaby Branch about adopting him and she was wonderful. She walked us through the adoption process and gave us advice on how to introduce him to his new home.
When we got Patrick Stewart home, within 10 minutes he was so excited and started exploring the apartment, having lots of fun. Based on his behaviour in the shelter, we were told he also might not be a very cuddly cat. That same night, he was laying on my chest, sleeping and purring.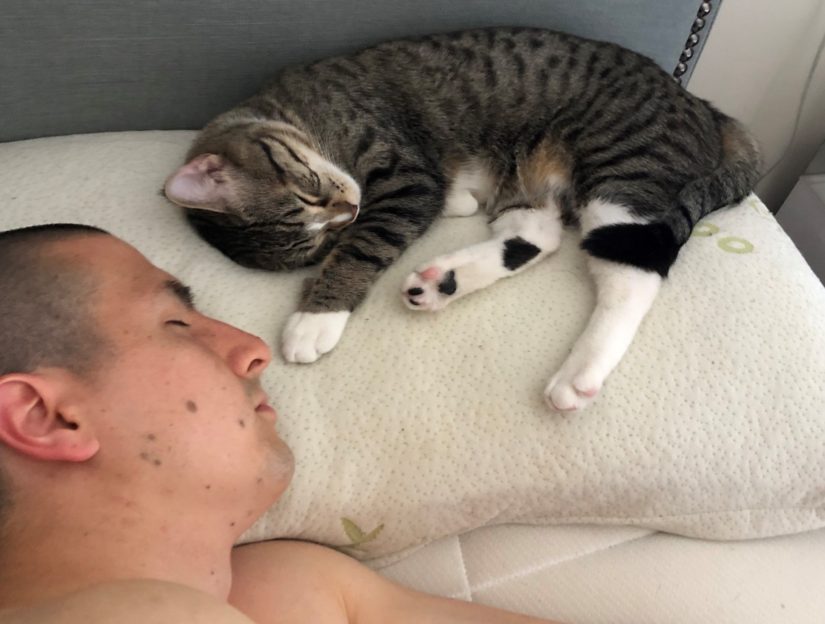 Patrick loves to play tag and chase any toy that is a mouse. We will find him napping in his cat tent or by the front door on his back with his paws in the air. He loves to drink from the bathroom faucet, chase any spiders that may find their way into our apartment and jump as high as he can, which is almost five foot.
Patrick Stewart is a very curious cat and he always loves exploring new things but approaches everything with cautious curiosity. He has come a long way in his fear with strangers. Now, he only takes a couple of minutes to observe and sniff before he's their new best friend.
We are currently working on slowly introducing him to dogs so one day we can add another pet into our lives.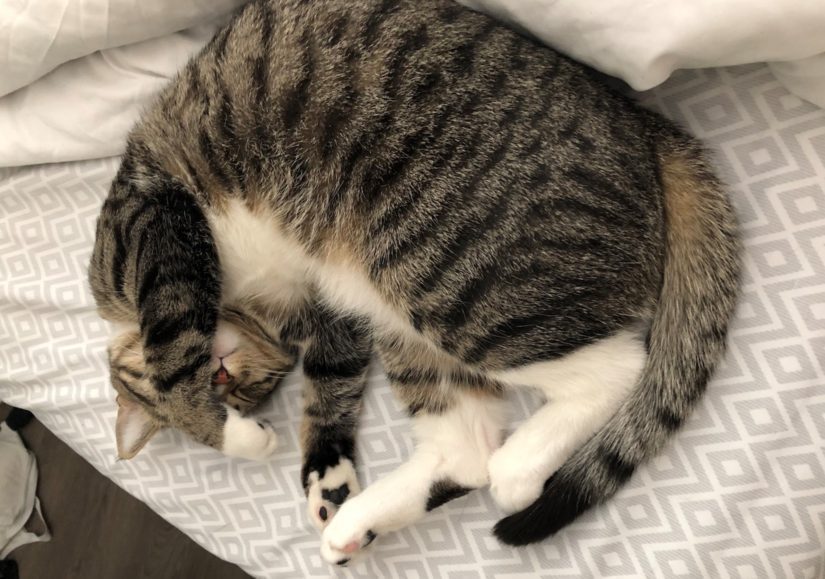 I think Patrick is a perfect example of an animal who just needed the right home to be able to show his true personality.  An animal's behaviour in the shelter is not always a true reflection of who they really are.
Patrick has forever changed our lives. We love him to pieces. We both rush home from work every day to get licks on our cheeks and cuddles from him when we walk through the door.
We can't thank the BC SPCA Burnaby Branch enough for helping to bring this little guy into our lives.
Thank you to you and your fiancé, Megan, for choosing adoption as your first option. Thank you for not shying away from a historically anxious kitty and for bringing out the best in him. We love that Patrick Stewart isn't afraid to be himself around you, which shows us he truly loves his forever home.
Have you adopted an animal from the BC SPCA and want to share your joy with others? Submit your adoption story!