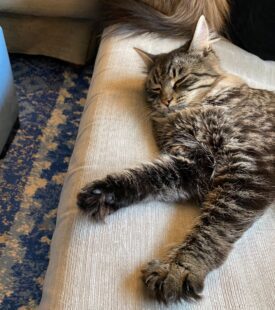 Ozymandius was only a couple months old when he was found as a feral stray.
Once he was brought into the BC SPCA Vancouver Branch in October 2019, we discovered that he was terrified of people and needed a home with a lot of patience to bring him out of his shell.
Luckily for Ozy, Marina came across his profile on the BC SPCA website two months later, and she wasted no time in visiting him at the shelter.
Ozy has now been living with his family for several months, and Marina wrote to us with an update on how he is settling in:
I saw Ozy's photo on the BC SPCA website. He just called me to come and get him. His profile said he was four months old and had been a feral trapped with his mom and sister.
I went to the BC SPCA Vancouver Branch to see him the same day. When I got there, the volunteers couldn't find him in the viewing area. They said it was possible he had been adopted already.
I checked with the staff and found out that Ozy was actually in an isolation area because he was so terrified of everyone. The staff also told me that no one could handle him or pick him up. They said his file indicated he had been in a foster home for a short while and he preferred female humans to males.
I was allowed to go upstairs to the isolation room to meet Ozy. He was in a kennel with the front covered so he could feel safer. I reached in and he hid in the back, but then he sniffed my hand and let me pick him up. He instantly snuggled into me and started purring.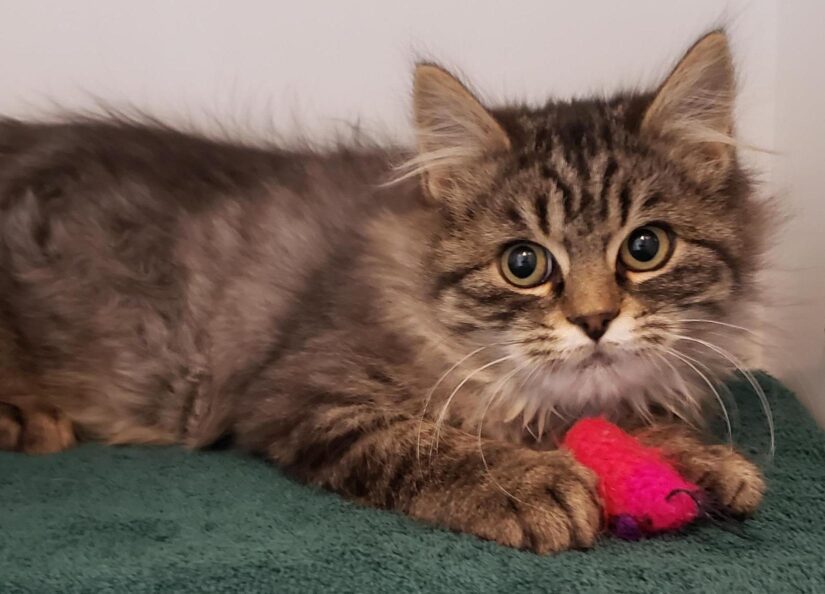 I knew Ozy needed to come home with me. I adopted him right there and took him home.
I picked my husband up on the way home and Ozy curled up in my husband's arms for the rest of the ride.
We have three other cats but knew they would be okay with him eventually. I was optimistic that he would bond with my two-year-old Ragdoll cat, who really loves playing but the older cats just aren't interested.
We kept Ozy in our office for a few days where he could see, hear and smell the others. They could also watch him there and get used to him. He was definitely afraid of us reaching towards him or looming over him.
My husband is 6'4" so it's hard for him to avoid looming over a tiny kitten even while sitting down. Over time, Ozy slowly got used to our house. The other three cats have really helped him learn how to be a house cat.
We have watched Ozy's little personality emerge. He is quite the funny cat with an extremely 'resting judgey scowl face'. He has formed different relationships with each of our cats and has connected the group of them together.
Ozy plays with our Ragdoll—they chase each other from one end of the house to the other. He is buddies with our five-year-old Maine Coon cross, and always goes to check on him when he's not nearby.
He loves and cuddles our twelve-year-old black cat whenever he can. He makes biscuits in Loki's side, purring away until Loki can't handle getting stabbed anymore and moves away.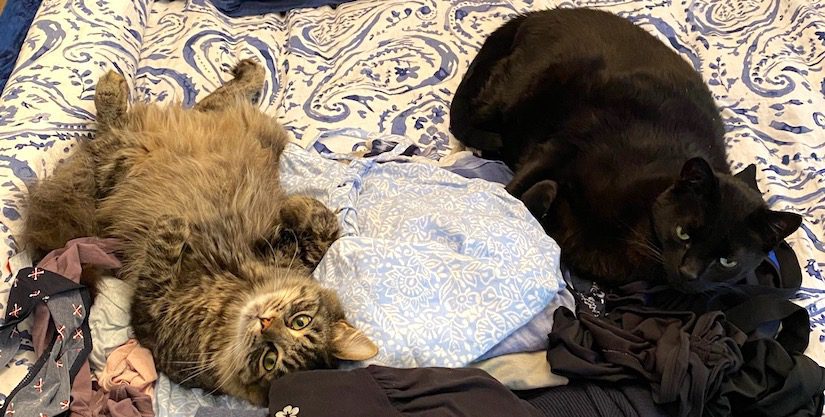 Ozy loves being petted, getting back scratches and belly rubs. He will let us pick him up and even purrs for me while holding him. He's not a cuddler yet, but he is very social and affectionate.
He is quite vocal and always seems to be chirping and making noises. Our other cats are also vocal but not in the same way. He loves to hide in fabric shopping bags and we hear him from the other room talking to himself while he plays.
Every day, Ozy knows when it's play time. He'll sit in front of the shelves with the fun toys, patiently waiting. If we don't get the toys, he will follow us and make all sorts of noises and tiny meows until we play with him.
We have a catio and Ozy loves to go out first thing every morning with our Ragdoll by his side.
Ozy has been the perfect addition to our family. He has made such a strong connection between our other cats who were not bonded amongst themselves before. He is still very small in comparison to our other cats—but they are huge at 13, 23 and 24 pounds.
We are so glad we brought Ozy into our family.
Thank you to you and your husband, Marina, for choosing to adopt Ozymandius and for providing him with a home where he felt comfortable enough to let his personality shine.
It can be very tricky to raise a previously feral feline, but Ozy is growing up into a lovely cat. We look forward to hearing about him flourishing over the years to come.
Have you adopted an animal from the BC SPCA and want to share your joy with others? Submit your adoption story!