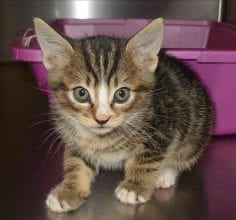 Oscar was only a month old when he came to the BC SPCA 100 Mile House & District Branch. For the two months he was under our care, this doe-eyed kitty won our hearts.
He was a very shy kitten, tentative at first meeting new people and other animals. We knew he needed a gentle family, with guardians who knew how to provide proper care to such a young kitten.
After he was transferred to the BC SPCA Williams Lake & District Branch, he was transferred once more before he was adopted. When he finally arrived at the BC SPCA West Vancouver Branch, he had found his new forever family.
His guardians wrote us this update to let us know how well he had settled in: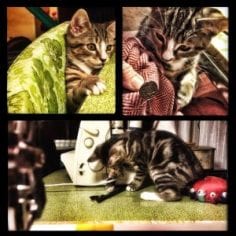 I got Oscar at the West Van SPCA; he was 12 weeks old. I was looking for a companion to my female adult cat, Tasha. I was told he was shy when I met him and I hesitated, as I wanted a cat with a vibrant personality, but his beauty captivated me.
The moment I put him in my car, he began purring super loud. I then realized I had made the right choice.
When he arrived he settled in incredibly quickly to the dismay of my adult cat, Tasha. Oscar is quite mischievious and stalks her or wants to constantly play. Tasha
 doesn't want anything to do with it, but he persists and slowly she is beginning to relax.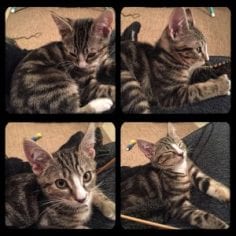 He is incredibly playful, curious, and vibrant. There is nothing shy about him. He has no fear and has captured the hearts of visiting friends (and dogs). My female adult seems less needy and vocal when I am gone all day. I believe companionship is good for her. In time they will be friends.
Thank you!
That's great that Oscar has gotten so comfortable so quickly. It sounds like he is having a blast with his new family. We also think it's great that Tasha is slowly warming up to him, and it's pretty adorable that he now has an older sister to annoy.
That seems pretty normal for siblings, doesn't it?
Thank you so much again for giving Oscar the forever family he needs, and for choosing adoption as your first choice.