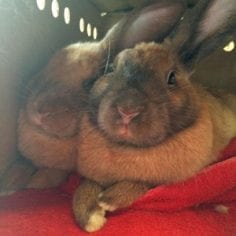 Orion and his brother, Apollo, were surrendered into the care of the BC SPCA Burnaby Branch in January 2016 because their previous guardian had too many pets and it was overly crowded. The two bunnies needed a nice, warm forever home where they could play all day long and have plenty of their favourite veggies to eat.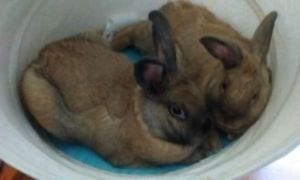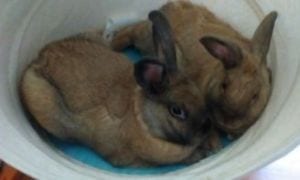 The pair of them love to cuddle with one another, which is how they fall asleep much of the time. But when they're awake, they are very active and enjoy socializing, so they needed to find a family just as fun and loving. Though Apollo is more outgoing than his brother, the two are inseparable and were lucky to find the same forever home in August 2016. Their guardians wrote to tell us about how the siblings are settling in together:
The bunnies are great – very happy and very healthy. They are currently snoozing together in their pen.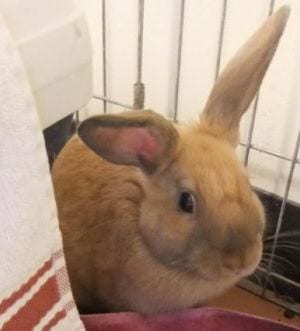 Orion is always the first to jump out of his pen when I open their door in the morning after breakfast. They love to jump around the kitchen and the living room, and as long as we are home, we let them have plenty of exercise in the morning and also in the evening.
Apollo is still more approachable than Orion, and will let you pick him up or pet him more easily. They have definitely taught us to rabbit-proof our house! We learned quickly how much they love to chew wires, and we lost a few chargers to them when we were careless.
Their favourite food is definitely their kibble in the morning and kale. We live very close to a Nester's market, and the manager gives us free bunny greens if we leave him a bucket to fill up with produce that the bunnies will eat. Isn't that amazing?  He has even asked for a picture of the rabbits so he can keep it in the back in a frame on the wall. It's very sweet.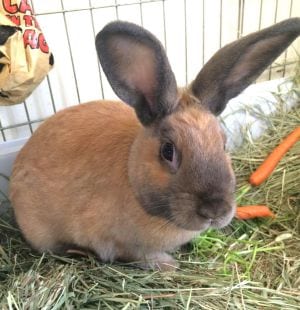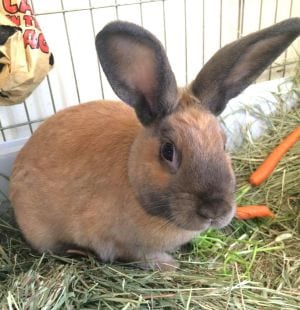 We are looking forward to warmer weather, so we can once again bring the bunnies outside in their puppy pen on the grass in the backyard. I just let them out of their cage actually, and they are happily hopping around the living room nibbling on the random pieces of cardboard that we leave out for them.
My two boys, who are almost seven and four, are very sweet with them. It has been incredible to watch the boys learn how to be gentle and slow while petting the rabbits so that they won't hop away.
The two bunnies are very social and like to be with us as much as possible; we have learned that rather try to contain them on our lap, to just let them be free, and pet them when they are beside us.
It sounds like Apollo and Orion are able to stretch out their legs and hop around as much as ever. It's great to see they now have a forever family who fits their outgoing personalities and is willing to put in the care to make sure they're safe and well-fed. Thank you so much for making the two of them as happy as can be, and making adoption your first choice.