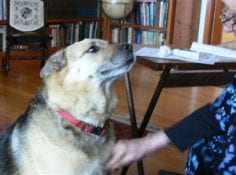 Oha was surrendered to the Prince Rupert Branch on August 26, 2010. Her former owner moved away and left this sweet girl with his parents who were seniors and unable to care for her.
Oha was transferred through our Drive for Lives program to the Sunshine Coast Branch where she was fostered into the home of a senior couple who fell in love and officially adopted her.  This beautiful girl now lives on the waterfront near Lund.  They sent this letter, to update us on her progress.
I am writing to you about our joy in adopting nine-year-old Oha whom we have renamed Amy.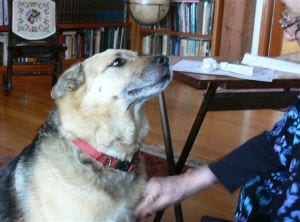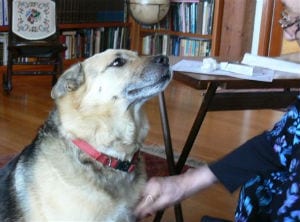 She is not just an amiable companion, she is a marvel and loves to play and run. We feel so sorry for the length of time she was not with us. We lost our 10 year old wolf-dog, Abigail a few months ago and ached at her loss.
My husband is 75 and I am 73, what are sometimes called "the golden years". We still had so very much love to give after losing Abigail and another dog who had been with us for 13 years; both within a few months.
Our adoption of what is called a senior dog was the best thing that has happened to us in a long time. Not only had she been trained to sit, stay, come and lay down but she was wonderfully considerate of us. She has been with us now for three weeks and is also kind to the cat, although the cat does not always reciprocate! But Amy is patient.
We would recommend that other seniors give serious consideration to adopting an older dog. Those seniors and those now abandoned dogs have much to share together as we have so wonderfully found.
We are so grateful to the BC SPCA for all that they are doing for neglected and needy animals here in our province.
Arlene and Al