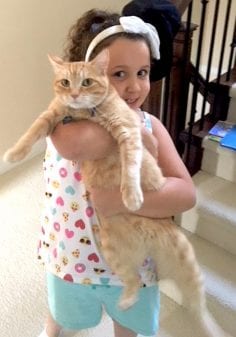 In the summer of 2017, Teddy was hanging around a townhome complex on the UBC Campus, making friends with many of the residents and scrounging the odd meal. On July 29, a good Samaritan brought this social, outgoing fellow to the BC SPCA Vancouver Branch. The shelter staff assessed Teddy as being a cat who would need an active home to provide him with enough stimulation to keep him happy indoors.
From the photos, it looks like Teddy hit the jackpot. Teddy was adopted by his new family on August 9, 2017 and is now known as Ninja. Here's an update:
Dear BC SPCA,
My name was Teddy but my new family changed it to Ninja. Well, at least that is what my collar says. Most often they call me Ninj, Ninji, Ninjerine or a host of other names. Really, I don't mind the multitude of names. I think they really love me so I put up with them.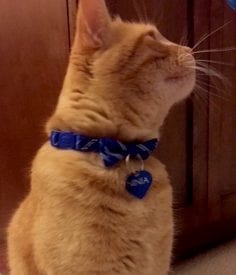 I am happy to report they have followed all of the SPCA guidelines since they adopted me. They even got me a collar with my name on it. Can you believe they make me where a bow tie? I think they really love me so I put up with them.

I have continued on with my Science Diet. Chicken is still my favourite flavour. Sometimes my mom gives me some tuna for a treat. I really would like more tuna servings, but I think they really love me so I put up with them.
I'm not sure why they are so surprised that I have so many talents. I often hear them say, "this cat is more like a dog." Is fetching off limits for cats?  Don't most cats come when their owners call them? I think they really love me so I put up with them.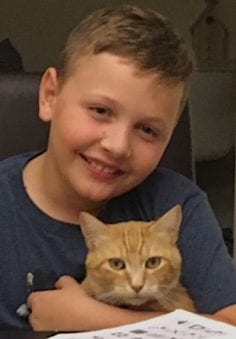 Today is my three-month anniversary with my new family and I am pleased to report this is the purrfect home for me. They passed their probationary period and they are officially my people. Thank you, SPCA, for taking me in and caring for me when no one would. Thank you for finding me a family that really loves me. I don't just put up with them, I love them all and I love all of you, too!
Yours "Mew"ly,
Ninja Cabrone
(My last name rhymes with pepperoni, isn't that cool?)
Are you kidding? Everything about you is cool, Ninja. We're so happy that you found a home that provides you with so many people who love you and enrich your life, so that you never have to go wandering again. May you have a long and happy life together. Aren't you glad your new family made adoption their first option? We're sure thankful they did.