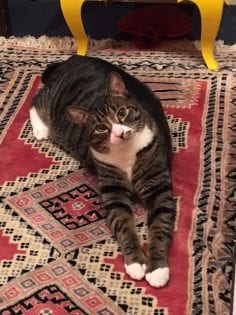 From the moment we bring a pet into our lives, we know the time will eventually come to say goodbye. For one family, a new cat named Murphy was just what they needed to move on and pay tribute to the furry friends they recently lost.
Murphy was hiding all alone in the bushes in front of an apartment complex before a concerned citizen brought him to the BC SPCA Vancouver Branch.
Despite Murphy's turbulent living situation, the person who found him told shelter staff of Murphy's kind, affectionate nature, as well as his friendly disposition with both people and other cats. Fortunately, it wasn't long until Murphy found his very own family. This is what they had to say:
I had just lost both my cat and dog of old age (both died at 18) and was looking for a new fur baby to love.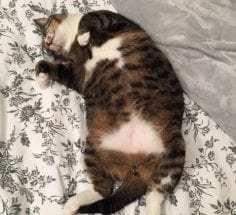 I quickly found my cat Murphy with the help of the staff who knew exactly which type of cat might suit me. He is the best and I am so glad we found each other. Adoption really is the best option!
We're happy that Murphy found a family with so much love to give and a stable, caring home just for him. Thank you for choosing adoption for this cuddly boy.