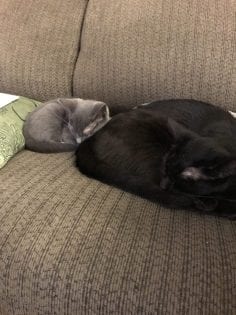 Found wandering along 116 Avenue in Dawson Creek earlier this year, Mountie came into the care of staff and volunteers at the BC SPCA South Peace Branch as a stray kitten, less than a year old.
We quickly learned how friendly and affectionate this grey cutie was. He made friends with staff and volunteers (and quickly stole our hearts) and seemed to like other animals as well.
After being neutered, it didn't take long for him to find his forever home, where he loves his new fur-sibling, Arya, a black cat not too much older than him.
His guardian, who adopted Mountie on June 23, sent us this update:
I saw Mountie online and immediately fell in love with him.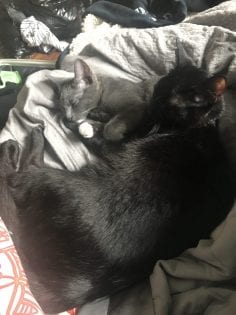 I wanted him as a little buddy for my older kitten, Arya. When I brought him home, she stalked him into a corner and punched him in the head…!
In a couple of days, though, they were as close as siblings. He's a dopey little ray of sunshine and such a sweet little cuddler. Now, Arya and I can't imagine life without him.
It's so great to hear Mountie has settled in nicely in his forever home. It sounds like he's having fun playing, cuddling and sleeping with his new fur-sister. Thank you so much for opening your home and your heart to this cute cuddle-lover by making adoption your first option.