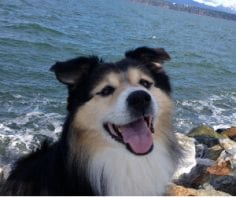 Monte came into the care of the BC SPCA Quesnel & District Branch in January 2013 from a reserve north of Prince George. He was a sweet but timid boy with a fear of squeaky toys, and who had been use to roaming freely in wide open spaces. Incredibly, Monte is now a city dog, living happily in his forever home in Vancouver. Read on to find out how Monte met his adoptive family:
In early 2013, I saw three pictures of a husky/collie/mutt named Monte and I fell head over heels in love. He was eight hours away and I wasn't planning to get a dog. The only descriptive info I had was his age – six years (though later we discovered he's probably older), so I dusted off the 'Puppy Plan' I wrote up years ago and gave the BC SPCA Quesnel & District Branch a call. I asked a bunch of questions, hoping they'd make it clear that I couldn't possibly adopt this dog right now.
Each answer they gave dropped another piece into the puzzle that defined my dream dog. It became quickly apparent that I had to at least meet him, but the timing seemed impossible. They wouldn't transport him down to Vancouver and the weeks that followed were my busiest with work, birthdays and the birth of my first nephew. When would I find time drive eight hours, in late January, without winter tires? Was I crazy to even consider doing this?
Over the next month, I left it up to the universe to decide. If the stars aligned and I found a way to meet him (before someone else took him home) and it was the right fit, then he was destined to be mine. If not, I would have to trust that it was the best outcome for everyone involved, including Monte.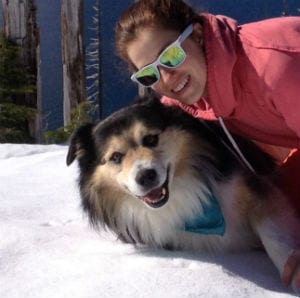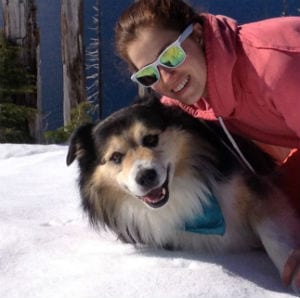 On three separate occasions I thought he was picked up by another family. I grieved, then picked myself back up just in time to find out that he was, in fact, still available. A window of opportunity came, and my patient partner and I made the stunning drive on a dry Saturday in February. We took him for a walk, then a sleepover at a friend's place and never looked back.
I am so happy that I acted on that persistent gut feeling. Daily, I'm struck by how wonderful it is to have him in my life. So far, he has taught me almost as much about life and how to take care of myself (and others) than I learned in four years of naturopathic college. If you're an animal lover and are ready to take the leap into ownership, I strongly recommend looking at your local shelters to see if your partner for life is waiting for you in there. Monte was a steal and the handsomest, kindest, softest, cleanest, smartest woof I've ever come across.
Thank you Taryn for sharing the dramatic story of how Monte came to be part of your family and for making adoption your first option.