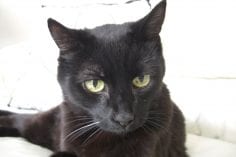 Molly arrived at the BC SPCA Abbotsford Branch in May 2017. This 13-year-old cutie was a mature kitty with a young heart and soul.
About a week later, Molly was transferred to the BC SPCA Port Coquitlam Branch where we had a bit more time to get to know her. We found out she liked to participate in calm activities and was open to playing games with everyone. She was friendly and sweet and liked to be stroked, and how people loved to pet her! Molly had the softest fur. Afterwards, she would purr when she felt content.
In June 2017, she found her new forever home. Her guardians wrote to us this update: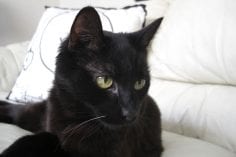 My granddaughter and I were 'only popping in' to drop off some greens for the rabbits but we also viewed the cats. We spotted an elderly gal called Molly, instantly fell in love, and went back a few days later to bring her home.
Molly is in the twilight of her years and she prefers a quiet life so has taken over the basement and specifically the comfortable couch, rather than being upstairs with the young-ins (the other three cats in residence).
She has the loudest purr and lots to say, and adores to have human company to settle down and watch TV with her.
Molly has a big heart and so much affection to give, we are so happy to have this wise elder in our home.
That's great that Molly has so much space to herself where she can be in the quiet environment that she prefers. Thank you for giving her the reliable, forever home she deserves, and for choosing adoption first.