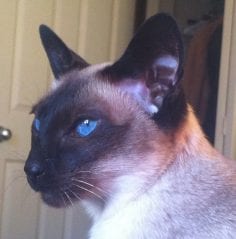 Molly came under the care of the BC SPCA Burnaby Branch in March 2011, after she crawled into someone's car at Brentwood Mall. She was in great need of love and care.
Molly was in some rough shape and had a few dental problems when she came to the shelter. We could tell she was a sweet cat but needed time to warm up to others and get comfortable. When she did, she was very affectionate and enjoyed having company around.
Luckily, it didn't take long for this precious Siamese cat to find her new forever home and she was adopted less than two weeks later. Her new guardian sent us this update on how Molly has been settling in:
I went to the BC SPCA to look at a beautiful long-haired colourpoint cat I'd seen on the adoption site. I was looking for an older cat that would be company for my other newly adopted cat, but it turned out that that particular cat was adamant that she be the only cat in a home. Molly, a short-haired colourpoint, immediately caught my attention.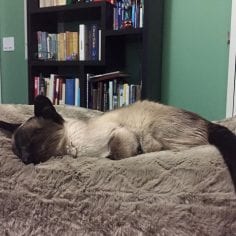 I grew up with Siamese cats so I have a soft spot for the loyal, loud creatures. She had bad teeth, seemed frail and depressed, and was still waiting to see if an owner would claim her. I came back as soon as the hold was up to adopt her  and the five pound little girl has ruled my home from that day on.
I call her my velcro kitty because she likes to be stuck to me whenever I'm not in motion. She doesn't particularly like other cats either, but when my other cat died, she missed him, howling that Siamese howl until I adopted another companion for her who she could feel equal disdain for.
She was a senior when I adopted her and she's ancient now, but she has a heating pad for her little arthritic bones and steps leading to her favourite cozy places and a human who adores her.
We are so glad to hear that Molly has been such a great fit for you and it's awesome that you've had previous experience with Siamese cats. We're happy she gets to have siblings, even though she may not appreciate them right away. We can tell you have gotten to know how special she is and thank you for letting her spend the rest of her years happy and content.
Another special thanks for being a superstar supporter of rescue shelters and for always choosing adoption as your first option.