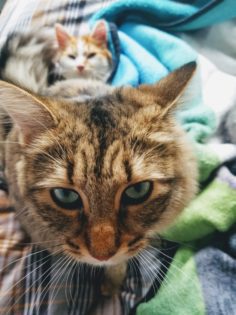 To many of us, a home simply feels more complete when we have our furry companions around. They're not just pets—they are members of the family.
Cat and her boyfriend Jay certainly feel this way about their two felines, Merida and Aslan.
Adopted several months apart from each other, yet both from the BC SPCA Tri-Cities Education and Adoption Centre (formerly known as the BC SPCA Port Coquitlam Branch), Merida and Aslan have not only bonded with their human guardians but also with each other.
Now, Cat has written to us with an update on their lives with Merida and Aslan:
Over the past two years, my boyfriend and I have adopted two kittens from the BC SPCA. We adopted Merida in 2017 and Aslan in 2018. Each of them were about six months old at the time of their adoption.
I am thrilled to report that both Merida and Aslan are doing very well. They're happy and healthy living together in their forever home. My boyfriend and I are both so happy to have these two furry friends join our family.
First, we adopted Merida into the family in July 2017. To begin with, she was a very shy, quiet and loving tabby kitten. Although she has opened up a lot, she is still as calm and beautiful as ever. She loves when we brush her and show her affection.
Merida now also enjoys exploring new heights and playing with her new furry friend Aslan.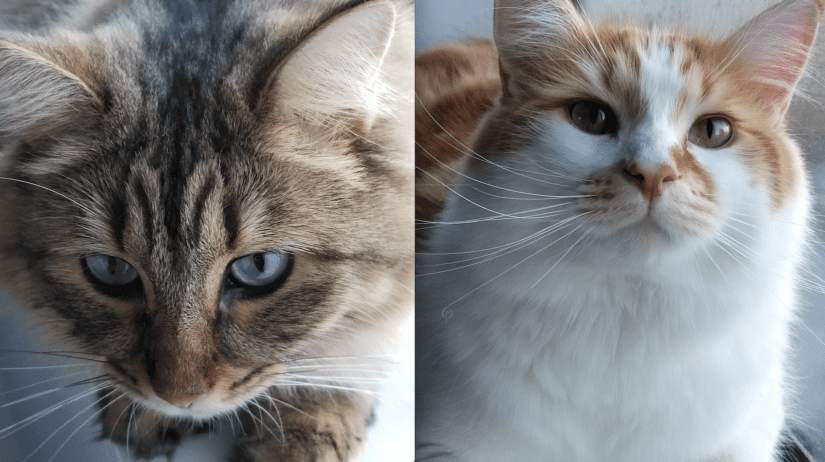 When we adopted Aslan in January 2018, he was a very friendly kitten from the start. We love his "dog-like" tendencies, which include waiting at the door for us, licking our faces and cuddling up to us on the bed at night.
Both cats have the best and distinct personalities that complement each other perfectly. We can proudly say that adopting these two adorable kitties was one of the best decisions we have made.
Thank you, Cat and Jay, for adopting Merida and Aslan and making them such an important part of your family. They are such a loving couple of kitties and we're confident that they both know just how loved they are. We wish you many more years of cuddles and purrs together!
Have you adopted an animal from the BC SPCA and want to share your joy with others? Submit your adoption story!