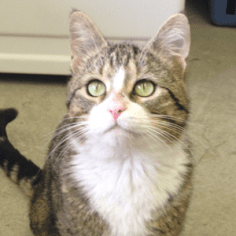 Marble, a domestic short-haired cat, was just about two-years-old when he ended up at the BC SPCA Chilliwack Branch on April 9, 2013. His previous owners were unable to keep him, so the playful young guy spent almost a month at the Chilliwack Shelter.
Luckily for Marble, it was love at first sight when some bake-sale customers decided that he was the sweetest feature at the shelter's Open House; they packed him up with their baked goods and took him home with them. Marble is now known as Paco and his new family shared their adoption story with us: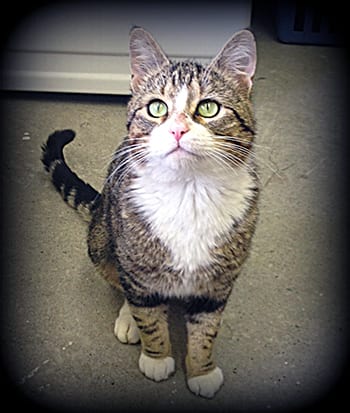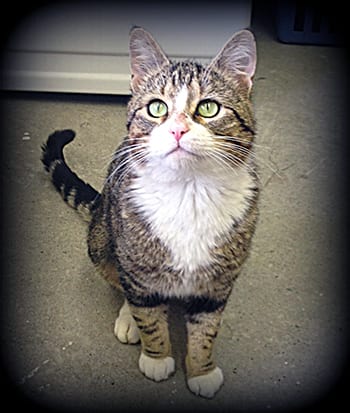 When my husband and I visited the Chilliwack SPCA Open House on May 3, 2013, our intent was to stock up on baked goods, not adopt our new cat Paco! For some time, we had wanted a friend for our cat Josie, but even though she liked other cats, she was very timid, so we needed just the right companion for her. We found the perfect guy in Paco.
Lucky for us that day, after we hit the Bake Sale at the Open House, we decided to check out the cats – although we both told each other, "We're not getting another cat today". Gail Hamanishi, the kind-hearted woman who had rescued Paco from the streets and brought him to the BC SPCA, had come out that day to see how he was doing. We noticed little scraggly Paco rolling around, being very friendly with another potential adoptee, and Gail told us that she visited him often, and he was a loving little animal indeed. Then she said, "But nobody seems to want him." My husband immediately said, "Well, we do!". I was on the same wavelength, and Paco came home with us and the baked goods.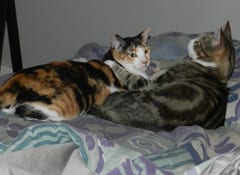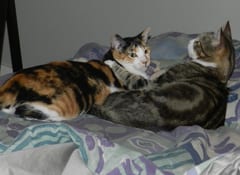 He and Josie loved each other immediately. They short-circuited the cat introduction exercise by making it clear they just wanted to nuzzle and hang out. Within a week they started chasing each other around the house, running into things and making as much noise as rampaging elephants, then falling asleep curled up together. He was smaller than Josie, thin and missing some hair, but he soon got a beautiful coat and became muscular. He's a big guy now but he's still good to his little sis.
We live at Cultus Lake, about a block from the water, and have a ski boat that we often take out for a few hours on a sunny day. Imagine our surprise last summer, when we pulled our boat up to the end of the pier and Paco was standing there waiting for us! It turns out he had a secret life: when we asked around, we discovered that people knew him. They'd often seen him waiting in the bushes near the foot of the dock, having secretly followed us down to the lake. Apparently he waited there even if we were gone for hours, popping in and out of the bushes to greet passersby. And not only that, he recognized the sound of our boat, because when he heard it pull up, he would head for home, unseen by us, so we didn't even know we'd been followed. Then one day he decided to reveal his secret, and when we returned from a ski run, there he was, standing bravely at the end of the pier, amidst all the noise, children, splashing water, minnow nets, towels, and sun bathers, waiting for us to dock the boat.
Now he makes no secret of his intention to follow us everywhere at the lake, so it's pretty difficult to go for a walk without him.
It seems like he's always been with us. Thank you, Gail Hamanishi, for caring for him when he was alone outside in Chilliwack and didn't have anyone, and for bringing him to the SPCA, where the great people there could take care of him. It takes a team.
Mary-Jean
Happy Endings don't get any better than this. We are thankful that Mary-Jean and her husband instantly changed their minds about getting another cat when they saw Paco. Obviously, Paco has turned into a delightful companion for the couple and their other cat, Josie. Adoption makes everyone happy!