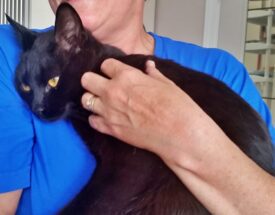 When unnamed animals come into our shelters, we often give them temporary names, while they are waiting to be adopted. The temporary name given to this fella, Best, says it all.
Maybe it was because one of our staff or volunteers decided he gave the best hugs, or had the best personality.
He was only about a year old when he was found wandering around Prince George and brought to the BC SPCA Surrey Education & Adoption Centre on July 29, 2017.  Even from this young age, Best would have been facing a rough outdoor life and would have quickly contributed to the cat overpopulation problem in British Columbia.
It was a lucky turn of events for everyone that he ended up in our care. He was neutered and vaccinated and adopted out to a family who walked in on August 15, 2017, and found their new best bud.
Sometimes the people who take our animals home give them new names. In Best's case, he became Maliboo. Here is an update on this handsome feline from his forever family.
Our black panther, "Boo," is a friendly, vocal fellow. He is kind to many, including dogs and veterinary staff.
He loves to be petted, and spends a great deal of time outdoors in our cul-de-sac visiting our neighbours. He speaks up when he is annoyed when the rain or snow falls.
He is our "Best" friend, and an important part of our family.
We adopted him from the BC SPCA Surrey Education & Adoption Centre almost three years ago. He found his way there due to the wildfires in the Cariboo.
Contrary to superstition, black cats have amazing personalities and adopting one would be the best choice your family ever makes.
We totally agree! Black cats are awesome.
Thank you for choosing to adopt, and for spreading the word about black cats. Many, many more happy years together.
Have you adopted an animal from the BC SPCA and want to share your joy with others? Submit your adoption story!