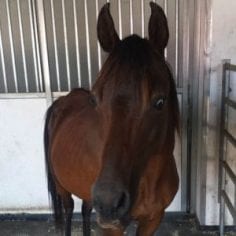 Maggie, a beautiful Arabian mare, had a very sad beginning to her story.
She was in a very weak condition when she was seized from her previous guardians and came under the care of the BC SPCA Good Shepherd Barn on August 11, 2015.
Malnourished and neglected, this 14-year-old female was one of many animals from the same farm that needed to be nursed back to health before she could find her right forever family.
For the following months, she grew healthier and stronger, eating well and putting on proper weight.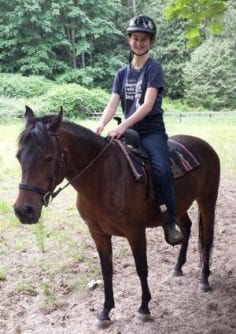 We watched her move and lunge gracefully, knowing she had so much potential and lots of power to show off to her new family.
Luckily, it didn't take her long to find her new guardians. They took her home in December 2015 and recently sent us this update to let us know how well she's doing:
Miss Magnificent [now her full name] has come such a long way since her seizure in August 2015.
She was one of 16 horses involved in the Surrey 57 seizure, and was adopted on Dec. 13, 2015 from the Surrey BC SPCA.
Since coming home with me, Maggie has grown into a spunky, sassy little monster (I say this affectionately of course!) She is very willing and eager to please, and occasionally, she actually settles down for a cuddle.
I've had kids on her back and it didn't faze her at all. The only things she gets nervous around are motorcycles…and fallen logs. So, cross-country is out and trail rides are fun. ("Omigosh its gonna eat me mom!")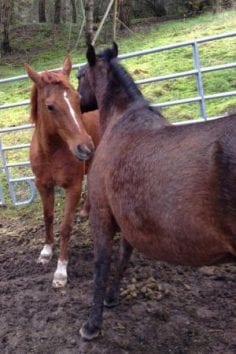 Originally, I brought Maggie home to be a companion for my leased horse, April. Once we unloaded her at home, I was trying to figure out how we could cut the paddock in half so they could spend a night just talking over the fence first, but it turns out I didn't have to – within five minutes of sniffing noses and talking to each other, April took Maggie on a tour of the whole paddock, even pausing to show her the water tub and hay feeder. Then they settled down to graze and that was it! It was like magic.
Now, one and a half years later, they are still inseparable, even when they tick each other off.
Maggie is my best friend. Occasionally she'll meet me at the gate for snuggles at feeding time, and she's always been patient with me. We've started some liberty training, and she now comes when called.
Recently I did a film project with her for a course in school and she went full-on diva, demanding snacks and attention on- and off-screen.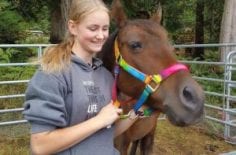 She's very open to learning new things, and her curiosity is absolutely adorable. She reminds me to just be silly and to relax, and she's there for hugs and support when I need it most.
I would like to say a HUGE thank you to everyone involved in the Surrey 57 seizure, especially to those who helped get my Maggie-girl her second chance at life. She's very grateful.
We are so happy to hear Maggie is back at her full strength and that she's getting all the TLC she deserves. It's so heartwarming to see how well she has settled in and that she has a fellow companion to ride and play beside. Thank you so much for giving Maggie her second chance at a forever family and for choosing adoption as your first option.