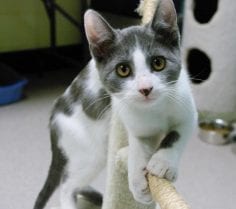 Sweet, little three-month-old Luna came into our care through the BC SPCA Kamloops Branch in November 2017.
Less than a week later Catherine and her partner stopped by the Kamloops Branch looking for a cuddly companion and Luna instantly charmed them. After having lived in rental housing that did not allow pets and having just purchased a new home, Catherine and her partner couldn't wait to adopt a new fuzzy family member and Luna was just the right fit.
Finding housing that allows pets, is an increasing challenge for B.C. renters and many pets are surrendered to the BC SPCA as a result. If you are affected by this issue, check out the BC SPCA's online pet-friendly housing tool kit.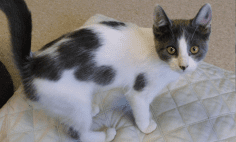 We have since received an update from Catherine on how Luna is settling in:
After living in no-pets-allowed apartments for many years, a cat was one of the first things on our list upon buying our first home.
Once we arrived home with her, Luna was immediately excited to explore her new environment and warmed up to us in no time.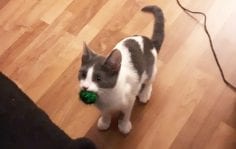 She is a very active and playful little kitten, who loves to snuggle when it comes time to settle down. Unfortunately for us, to Luna, settling down usually means lying on our heads and licking our ears.
Her green ball is her constant companion, and she has even taught us how to play fetch.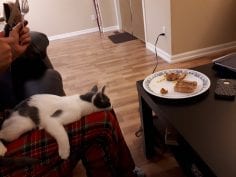 She seemed like the tiniest little thing when we brought her home, but as she grew more comfortable she began to really stretch out and is actually very large for her four months.
Luna is an amazing addition to our little family and we are so excited she has joined us.
We are thrilled that you are keeping Luna's busy mind occupied and she is keeping you entertained. Thank you for adopting Luna into her forever home.