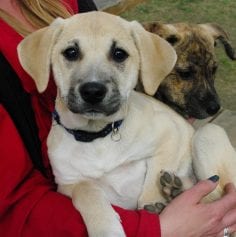 When Luna came into our care at the BC SPCA Kamloops Branch in March 2017, she was just a three-month-old puppy, a Pitbull Rottweiler mix.
It's a big decision to adopt a puppy. We always recommend to anyone considering adopting a puppy to research dog breeds and training techniques.
Potential adopters should be prepared to commit the time it takes to house train, play with and socialize a puppy, as well as practice patience when it comes to inevitably being woken up in the middle of the night.
Emilie and her boyfriend had no plans to back down from these challenges. They were prepared to give Luna a life of love and commitment from the moment they saw her in the shelter in April 2017.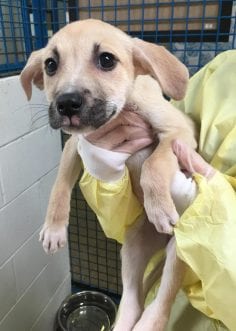 After almost a year of having Luna in their lives, Emilie has written an update for us:
My boyfriend and I adopted Luna from the BC SPCA Kamloops Branch this past spring, and fell in love with her from the moment we met.
Luna was an incredibly timid and shy pup when we first brought her home, so we slowly began to introduce her to new sights and smells to make sure she was comfortable in her surroundings.
When we first adopted her, she was under socialized and unsure of how to play with other dogs and people. So, we began taking her to the dog park where she quickly learned how to interact with other pups and became much more playful.
At first, Luna was unsure and frightened when she met new people. Now, she is much more confident and interested in making human friends as more time has passed.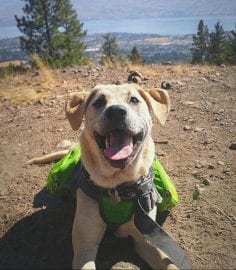 We've discovered that Luna loves outdoor activities such as hiking, mountain biking and leaping through snowdrifts as we go snowshoeing, so we always include her in our adventures.
It brings us so much joy to see her smile when we are all together, and we are looking forward to our future adventures with Luna!
Thank you for taking great care to work with Luna, for giving her the best life possible and for choosing to adopt your amazing lifelong companion.