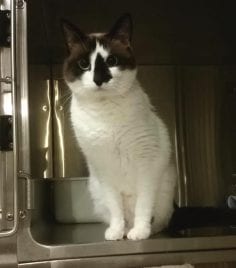 Luna was surrendered with another cat on October 15, 2016 because both were peeing outside their litter box. Cats naturally want to bury their waste, and when they don't, it's usually the result of a medical or behavioural problem, or emotional stress.
When Luna and her companion cat arrived at the BC SPCA Surrey Education and Adoption Centre, staff determined that the cats were emotionally stressed when together. Once they were separated, the behaviour resolved.
The sensitive personality that made Luna perhaps not the perfect fit for her former situation is clearly an asset in her new home, according to this update from her new guardian.
When we first met Luna at the Surrey SPCA, she was scared and lonely. The staff had told us that Luna hadn't come out of her box for the whole time she had been at the shelter. We went in and started to pet her and slowly she started to come out of her box. We started to play with her and then she let me pet her belly. We knew that that meant that she liked us.
After a long conversation we decided that we would adopt her. We thought that when we adopted her she would come home and be scared, but as soon as we got home she was super kind and gentle and she loved to get her belly rubbed.
Luna has really become a great cat. She has really helped me when I feel sad, scared or lonely. We love her so much and we can't imagine life without her.
We are delighted that you took the time to seriously discuss the decision to adopt Luna. It touches our hearts so much that this sweet girl has found a home where she is truly loved and appreciated for the gentle soul that she is.  We wish you many years of love and comfort together. Thank you for making adoption your first option.