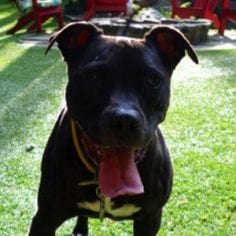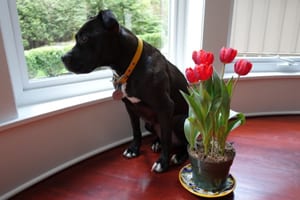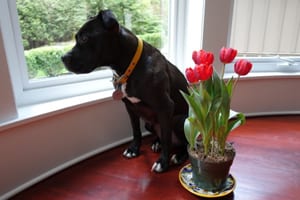 Lucy Lemon, or Lucy for short, had a difficult start at life. At only three-months-old, Lucy came into the care of the BC SPCA Burnaby Branch in September, 2008. Lucy had suffered an injury and her previous guardians could no longer care for her so they turned to the BC SPCA.
Lucy spent several months recovering at the branch before being ready for adoption. At six-months-old, Lucy found her new forever home in January, 2009. Her guardian Natalia has now sent us this moving update:
We adopted Lucy seven and a half years ago from the BC SPCA. She was six-months-old. At three months, she had been hit by a car due to the negligence of her previous guardians. Her back leg was terribly broken and she needed surgery. Her previous guardians were unable or unwilling to pay for treatment, so the BC SPCA took Lucy in and treated her.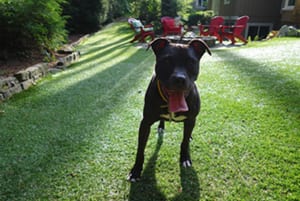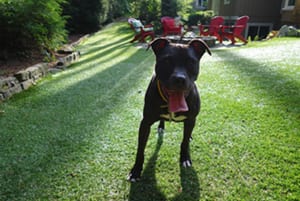 With a steel rod in her back leg and after months of being indoors not able to run or play like a normal puppy, Lucy Lemon was ready to start living life – and live it she did! In spite of being up for adoption for a while, this little girl was full of life even in her kennel.  
On a snowy winter day in December 2008 during one of our visits to the BC SPCA Burnaby Branch branch, I came upon Lucy in her kennel. The sight will be forever in my memory: I came around the corner and there was a tiny little pitbull, perfectly in the centre of her kennel, sitting with her big warm watery eyes looking up at me. She never barked, just quickly came over to say hi.  
We were not able to adopt her that day although we wanted to, but it was just before New Year's and the individual that authorizes adoptions wasn't available. So we had to leave her. It was such a cold winter, I couldn't stop thinking about her.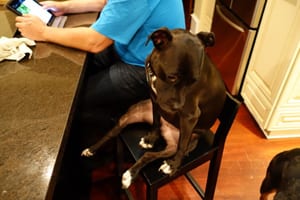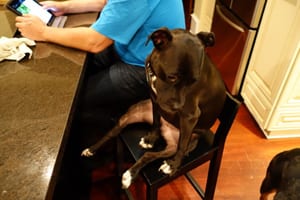 In the new year 2009 we went back to the BC SPCA as soon as we could, which was not right away, and amazingly Lucy was still there. Burnaby has breed-specific legislation which likely this contributed to her adoption challenges, also the fact that she would likely have mobility issues in her older years due to her past injury.  
Once again, Lucy would etch a sight into my memory. I came to her kennel and there she sat again, this time wearing a turtleneck sweater. In the time it took me to go and get my husband and return to her kennel, she had gotten the zoomies and managed to get out of her sweater. She stared at us in a way that beckoned, "let's have fun". Well, she came home with us that night.  
It was evident that Lucy had not been acquainted with many dogs, but she was eager to make friends with anyone she met, two and four legged, and accepted her big brother Max the labrador and sister Bailey the catahoula very quickly. The first few nights, Lucy would sit on the sofa across from the four of us and just look at us. But it didn't take long for TV watching time to become her favourite way to wind down the day.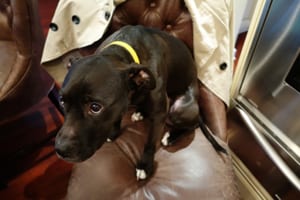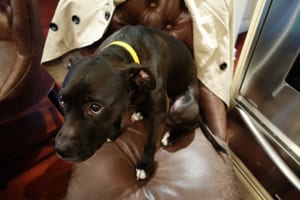 Lucy has been my constant companion ever since. Her little soul is so full of life, happiness, and goofiness, which comes through in everything she does. It's not surprising that she doesn't really think she is a dog, since the beginning of her life was spent with people in a hospital. So she sits on chairs like people do and insists on sitting in the front seat of the car, not in the back with the dogs.  
During our daily walks, invariably someone asks how old my puppy is, and they are shocked when the answer is eight-years-old. Although she did grow, she has always been a pocket pitbull, weighing just 40-42lbs. Much like her personality, her face is eternally puppy.  
Over the past eight years, our little family has had quite the routine: along with her brother and sister, we'd all go to work together where we'd meet up with our other human and doggy friends. On the way to work, we'd all stop at the field to play ball, trips to the lake, and so on.
Somebody must have forgotten to tell Lucy that she has a bad leg because she runs and plays at 110%. More than any other game, Lucy has always loved her ball. When we're not playing or walking, Lucy is so content to sit on her perch, a wide windowsill in our house, and look at nature.  She has a love-hate relationship with the heron that walks around in the pond on our street, and if it's a good day, we also get to see a deer or two.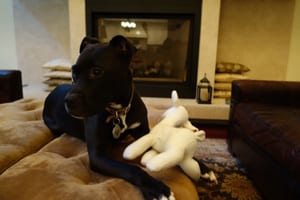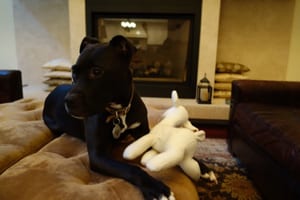 In 2012, I submitted her picture for the BC SPCA calendar, and we got on the cover. Lucy is so photogenic.
A couple of weeks ago, Lucy got very sick. In fact, we thought we'd lost her. We took her into the vet, and found out that she has some tumours, and is living on borrowed time. There are no words to describe the sense of despair and sadness that I felt having received that news.  
I had planned to grow old with Lucy. When her joints got too sore to walk, I was going to pull her behind my bike. So many things we were still going to do together.
Today, we said goodbye to Lucy Lemon. She has made my life forever better. She was a true gem, a precious little soul.
Thank you for giving each dog a chance to show how great they really are. Lucy is such a great girl, she deserves her story to be shared, and I thought i'd share it with you.
We are very saddened to hear that Lucy Lemon has passed away and we are very sorry for your loss. Losing a loved family member is one of life's worst experiences. Thank you for making adoption your first option and giving Lucy such a wonderful life, full of love, laughter, and so many adventures together.