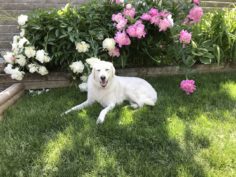 Louie, a five-year-old Great Pyrenees, came to the BC SPCA Shuswap Branch from animal control on September 21 of 2018. Sadly no one was looking for this sweet boy so he soon went up for adoption.
Louie had a quiet disposition and was unsure of strangers, but was quite affectionate with those who got to know him. On October 7, 2018, Louie was adopted by his new forever family who have sent along a lovely update:
Remember Louie? When we first came to meet him we fell in love with his gentle personality. Although he was reluctant at first, we were finally able to get him in the truck and on the road home.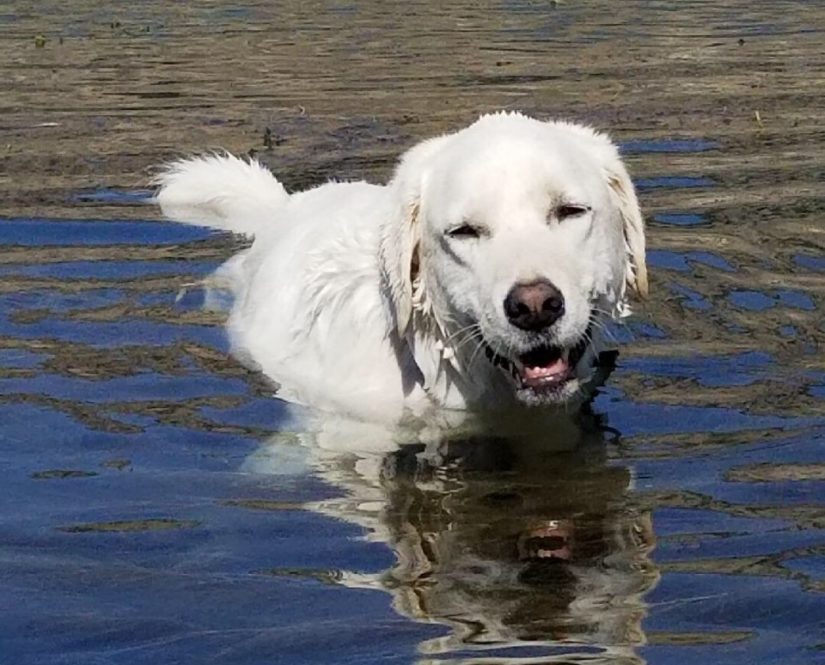 Once there he enjoyed our back yard, but didn't seem to know how to navigate the stairs down into our house. With time and some gentle encouragement he finally made it inside, where he promptly laid down in our basement mud room and refused to move.
We chose to give him some space and time to get used to his new surroundings and went upstairs to watch TV. About 20 minutes later, we heard some whimpering from the basement. He was lonely. At that point it was easy to coax him upstairs and show him where his bed was. 
You should see Louie now! When we brought him home his poor coat had clumps of pitch stuck in it, he was hesitant to explore his home, and he didn't want to go for walks. Now his fur is clean and shiny, he has plenty of confidence and he loves going out in the neighbourhood and up into the park behind our house (he even gets a bit bossy when he thinks it's time to go).
He can be silly in his own subtle way, and is quite stubborn and independent (which we love). He is gentle and occasionally playful with other dogs and is friendly with people. It's hard to believe that it's already been almost a year, and we feel so fortunate that Louie is a part of our lives. Thank you to all the wonderful people at the BC SPCA; our family feels complete because of the great work that you do!

Thank you for making adoption your first option. It is wonderful to see Louie loving life in his perfect forever home.