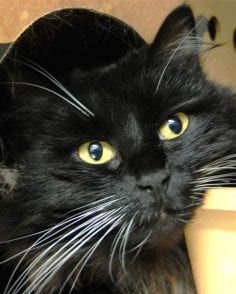 When Lala's former owner surrendered her to the BC SPCA Vancouver Branch in 2011 because a new landlord didn't allow pets, the seven-year-old feline had to wait nearly three months until her new guardian met her and took her home.
It didn't take long for Lala to settle in and now, the black and white senior feline is still loving life! Her new guardian sent us this update:
Just following through on a New Year's resolution to say that I'm so happy I adopted Lala and that I'm thankful for the BC SPCA's great work.
I adopted her (when she was seven years old) a few months after my childhood cat died and chose her because she seemed very gentle. She is a cat who is very particular about what she does and does not like but even so is one of the sweetest cats.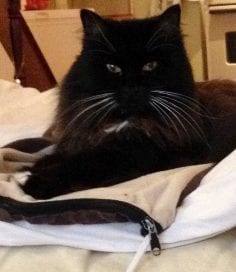 She is perfect as a lap cat, is still very playful even as a senior cat and greets me at the door after work. I'm hoping the family who had to give her up reads this and knows she is well-loved and cared for.
Many thanks again, BC SPCA!
Thank you for giving Lala all the love and affection she deserves and for making adoption your first option. We're so happy you found each other and that she's in such a wonderful, forever home.