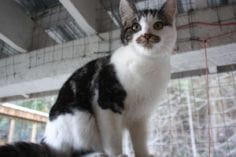 Lacey is a curious, cuddly cat with beautiful facial markings and gorgeous eyes. She was two-years-old when she came into our care at BC SPCA Prince Rupert Branch. To have a better chance at a quick adoption, Lacey was transferred to the BC SPCA West Vancouver Branch through the Drive for Lives program.
Lacey wasn't at the West Vancouver Branch long before she was adopted by her new guardians and taken to her new forever home. Two months later, Lacey's new guardians decided she needed a companion, so they adopted Spencer, a two-year-old stray cat  to keep Lacey company.
Lacey and Spencer, now known as Macey and Max, have been settling into their new forever home for the past few months. Their guardian has shared this update of how everyone is getting along: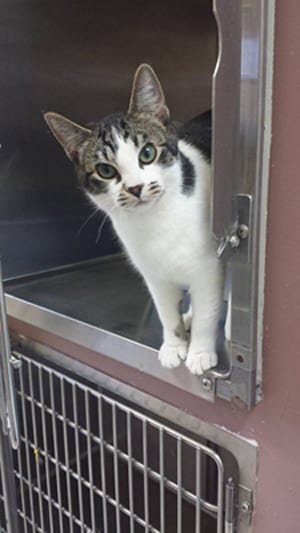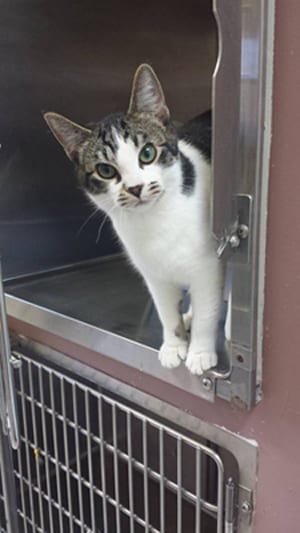 Monty, my cat of six years passed away in February, 2015. I was heartbroken and made my Mom and Dad promise me that I could have a new cat. They took me to the BC SPCA West Vancouver Branch two days later with a friend, thinking it will take a few months to find the right cat.
I found my cat Lacey on my first visit. Lacey was a small cat of two years with cute round eyes; I was in love. I took her home that day and it soon became apparent that she needed a companion. Back to the BC SPCA we went.
After a couple of months of looking, I finally found Spencer at the BC SPCA West Vancouver Branch in April. Spencer was a stray found on the streets of Quesnel when he was approximately 18 months old. He fell in love with my Mom and won't leave her alone. We placed him on hold so Dad could meet him. We came back the next day with Dad to meet Spencer; again all he wanted was my Mom. We all agreed he would be a wonderful brother for Lacey (now called Macey) and he came home with us that day. We were worried they may not like each other.
The moment Spencer (now called Max) met Lacey it was love at first sight for them both. They do not like being separate from each other for long. When one is left at home because of a vet visit, the other starts meowing for the sibling. Friends and family all think they were adopted together because they look so much alike. My dad likes to tell people they are brother and sister from the same litter. I think dad is right; mom says no. Max now ignores my Mom unless it is meal-time. Mom says she was scammed.
Macey and Max are sweet, gentle, friendly, and curious. They meet me at the door when I come home from school and allow my friends to play with them. Max likes to watch TV with Dad when I go to sleep. Macey is in the kitchen with my Mom when cooking. They do not bite or scratch and love to sit with me when I do my homework and watch TV. They snuggle up with me in the morning to gently wake me up for school. They are the best alarm clock a girl can ask for.
It's wonderful to hear that Macey and Max are getting along so well together. Thank you for making adoption your first choice for them both. Both Macey and Max deserve this second chance to live long and happy housecat lives. They are so lucky that you found them and brought them home.