We first met Kiwi in November 2016, when he was surrendered by his previous guardian to the BC SPCA Kamloops Branch.  A precocious puppy, Kiwi is now several months older and is thriving in his new home and even has a canine BFF!
He found his forever home at the very beginning of 2017 and his guardian sent us this message to let us know how he's doing:
Before adopting Kiwi I was a little hesitant because of an experience with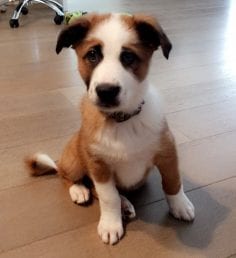 a previous dog and decided my next dog would be one who needed a home rather than a dog who was bred on purpose.
So I came across Kiwi and had to adopt him. He was such a stubborn, timid puppy who had to have a lot of training and getting use to things. But it paid off – now he is not timid nor stubborn, loves humans and other pups.
Kiwi absolutely loves being the centre of attention and is definitely a ball of love.
I wasn't sure how big Kiwi would get due to his breed and it was a guessing game. He is now nine months sitting at 35 pounds and even has a best friend, Rocco, who is very close in age and they do everything together.
Kiwi is a great dog and definitely recommend anyone to adopt, rather than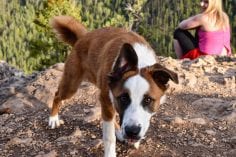 shop.
We are so glad to hear that Kiwi is settling into his forever home so beautifully.
Thank you so much for giving him the proper care and training that he needs to live a happy, active life! We know he is in great hands and getting all the love he deserves because you chose adoption as your first option.