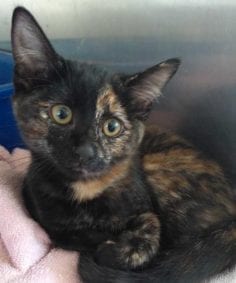 In a way, cats are like potato chips—you can't have just one! Kiwi originally came into our care at the BC SPCA Vernon & District Branch as part of a litter at only about two months of age.
Of course, it didn't take long for Jackie and her family to fall in love with Kiwi. Her true-to-tortoiseshell personality and beautiful eyes captured Jackie's heart in October 2017.
Now that Kiwi is almost one year old, she has her parents convinced that she needs a playmate to make her life complete. Jackie has shared an update with us on what it's like to live with Kiwi:
We adopted Kiwi and she has quite the personality. She goes from being cranky one minute to "Oh my gosh I love you Momma" the next minute—not to mention the innocent little "what did I do?" expression on her face.
Kiwi is not a lap cat, but she sure loves the windows. She'll spend hours watching the birds. They're incredibly entertaining, apparently.

We love our kitten so much that now we want to adopt another kitten if they will fit within our family. Our little Kiwi needs a friend and I will make sure it all works well.

Thank you for choosing adoption as your first option and for giving Kiwi a very caring home in which she can enjoy the wonders of the world. It's quite possible that she could benefit from sharing her home with another feline companion. We know that Kiwi is very happy to provide you with lots of entertainment just as the birds do for her.