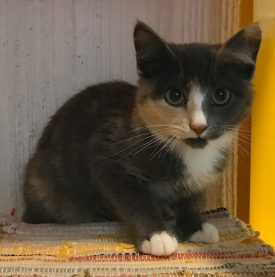 Young Kiera was found abandoned as a small kitten and brought into the BC SPCA Williams Lake Community Animal Centre in the autumn of 2017.
Given her background, we were not surprised that she was so timid. We knew Kiera would need a patient guardian to bring her out of her shell.
Then came Ann. Unable to resist Kiera's sweet charms and beautiful markings, Ann adopted Kiera and committed to raising her.
Almost four years on, Ann has written to us to share their story:
"Kiera was a scared, shy little girl when I first brought her home. For the first month, all she did was hide, but over time she began to accept her new home.
Now, Kiera is a loving companion. Her favourite spot to spend the night is on a pillow beside my own.
Although her name has remained Kiera, we do have many affectionate nicknames for her: Bumbo when she is being silly and zooming around the house and Cheeto when is she acting as a guard dog.
Kiera believes she is the protector of the house and will not settle for the night until everyone has gone to bed. She gets upset with us if we are on different levels of the house and tries to guard us by glaring at the door.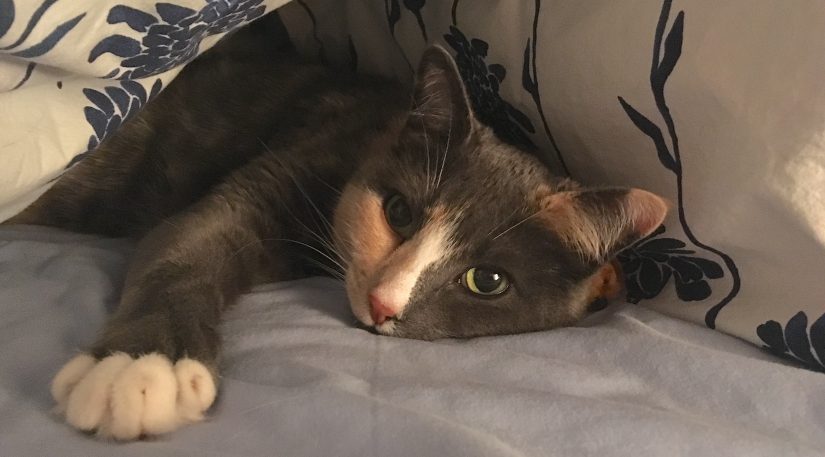 Kiera is still fearful of loud noises and new visitors, but comes running when I tell her, 'your friend's here', meaning a dove or flicker outside. She is such a clown at times but also a loving companion to my mom and me.
We are not certain that Kiera knows that she is a cat. We think she believes maybe she is human or even a dog! Thank you for bringing Kiera into our lives."
Thank you, Ann, for choosing adoption as your first option. We are so grateful that you took a chance on a nervous, young kitten, and Kiera is undoubtedly thankful as well. We also want to thank Kiera for protecting you so fiercely. It is evident that she has chosen you as her forever family and we are so proud of the cat she has grown up to be.
Have you adopted an animal from the BC SPCA and want to share your joy with others? Submit your adoption story!