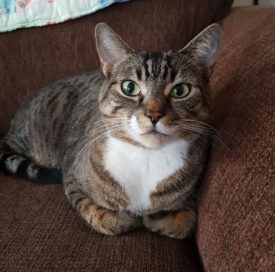 Occasionally, the first time an animal is adopted, it doesn't work out. For Kia, this was part of her journey to her forever home.
In the spring of 2019, sweet tabby Kia was found as a stray and taken in at the BC SPCA Victoria Branch. She was adopted after a few weeks, but then returned several months later because she wasn't regularly using her litter box.
After some medical attention, we discovered that Kia had urinary crystals, which made it painful for her to urinate. However, after starting a special veterinary diet, Kia started feeling better and her accidents resolved.
By December, Kia was ready for adoption once again. That's when Alex came to the branch to meet a different cat, but Kia caught Alex's eye instead and the rest is history.
Six months on, Alex has written to us with an update on Kia:
Kia has brought so much joy, laughter and endless snuggles into our lives since we adopted her in December 2019. Initially I went in to see another cat, but the second I laid eyes on Kia, we connected. I knew that she needed to come home with me.
I was struggling with anxiety at the time and Kia has done an incredible job easing my mind and showing me so much love. We have only had her for a few months but it feels like we've always had her.
Kia felt at home right away and was very brave exploring our apartment the first day she arrived. She had no hesitation snuggling on our bed. Every day she gets more and more affectionate and cuddly.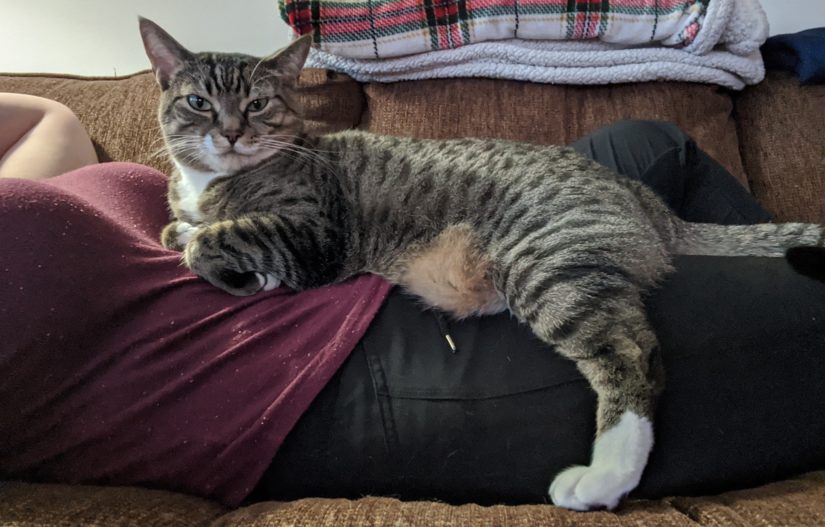 From the start, Kia has shown us that she can adapt to many situations. She has one of the sweetest, calmest temperaments I've ever seen in a cat.
She has been introduced to many people and is always affectionate and loves to engage with our houseguests. We have had my eight-year-old sister stay for sleepovers and Kia cuddles with her and follows her around the house.
Kia is very spoiled and has her own cat post set up in our sunroom. She loves to sit in the sun and look out the window. Her favourite sleeping spots are her two cardboard boxes, her small couch and my roommate's bed.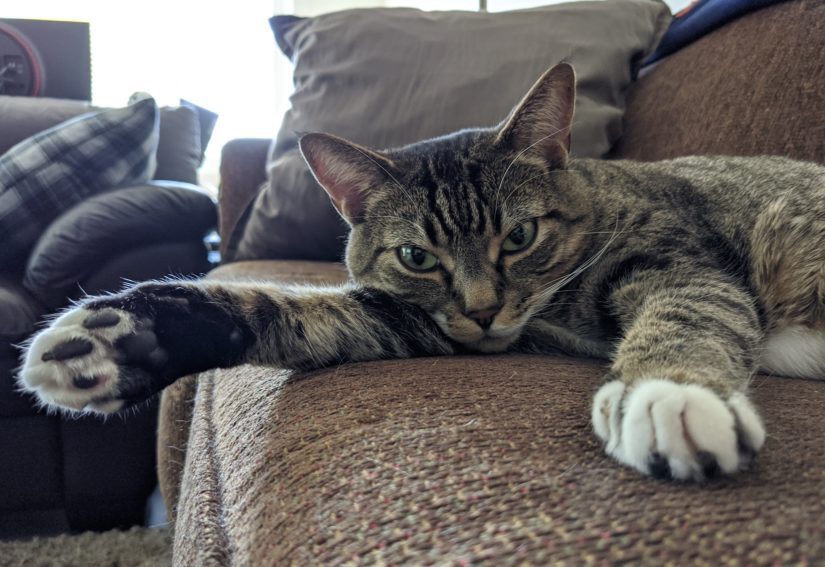 She loves ear massages, cheek scratches and belly rubs, snuggling on my stomach and laying by anyone's feet. She is very talkative and loves to tell us what's on her mind.
I am a Veterinary Assistant by trade and can say she is really good about being handled. She tolerates nail trims and inspections very well.
Kia truly is the sweetest, most affectionate cat I've ever had. Adopting her was the best decision I've made to date. We love her very much and will continue to enrich her life and spoil her!
Thank you, Alex, for choosing adoption as your first option. We are grateful that Kia found such an understanding and loving companion in you. We knew that she was a catch from the start. Thank you for giving Kia her second chance at finding her forever home.
Have you adopted an animal from the BC SPCA and want to share your joy with others? Submit your adoption story!