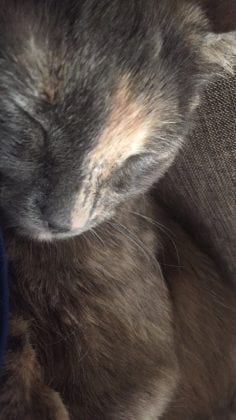 Two-year-old Kallie came under the care of the BC SPCA South Okanagan/Similkameen Branch in May 2017. She was seized by an cruelty investigations officer from a home with over 60 cats and was looking for her new forever guardians who would give her the care and attention she deserved.
After already raising her kittens, Kallie was ready to focus on taking care of herself and finding a forever home that would suit her needs.
She was a talkative girl with a playful personality; it was easy to fall for her charm. Her sweet nature was infectious and she put a smile on everyone's face.
In August 2017, she would bring joy to her new forever family. They wrote us this update:
We felt like our family was missing a member so I went down to the BC SPCA to look at some cats. After meeting some in the first room and finding one that I liked, I decided to look in the second and I fell in love the moment I looked into her eyes.
Her name was Kallie, she was rescued from a home with a lot of other cats and she had a kitten that was crawling all over her. She liked to talk, she still does, meowing at me to give her attention. I knew in that moment she was the one, but I needed my roommates to agree.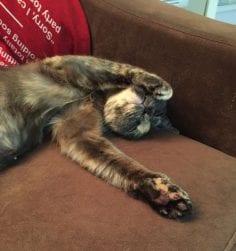 I brought them with me the next day and I plopped Kallie into their arms and they fell in love too. So a week later we were allowed to take her home.
She was a bit shy at first, hid in the bookshelf so she could watch and eventually discovered a hiding place under the bed where she has now made her own little cat cave. After about 13 hours she didn't want to hide anymore and has snuggled the whole family 24/7 since.
She wakes me up every morning, meowing for attention. She cuddles everyone and everything. My other roommate had a small dog as well—her name was Allie. Since Kallie didn't respond to her name or even acknowledge anyone who says it, we decided it might be best to change it. She's now called Socks, because "she likes to get lost under the bed." She even responds to her name now, call for Socks and you'll hear the cutest meow.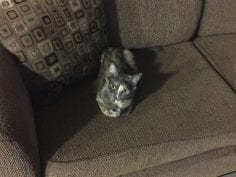 I couldn't be more happy with my little girl.
Well, we could not be happier to hear that. We are so glad that Socks has found a family to call her own, who gives her all the cuddles and affection she needs. Thank you so much for giving Socks her second chance and for choosing adoption as your first option.