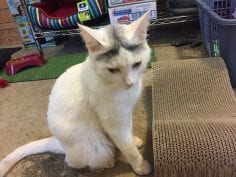 Jazzy arrived at the BC SPCA Nanaimo & District Branch in July 2017. He was a very careful cat and was looking for a patient guardian to take the time to get to know him and earn his trust.
Luckily, it didn't take long before his new forever guardian spotted him and brought him home. They wrote us this update to let us know how he has been settling in:
Jazzy came into our lives as a reluctant five-year-old cat. He spooked easily and was skeptical of playing and being pet.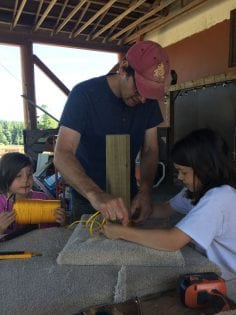 After just a few weeks together, Jazzy follows us to hang out wherever we are, and even comes to us for love. He is comfortable resting on our laps and loves to be scratched behind his ears.
Jazzy snoozes a lot during the day on the cat climber we made for him, also he likes to explore. Our children think he looks like a white panther.
Jazzy is settling in very well and we hope he will enjoy life with us for a long time. We are a perfect match!
That is wonderful to hear that Jazzy has settled into his new forever home.  We never tire of hearing how great of a match our furry friends are with their forever families, with Jazzy joining that growing list of happy endings.
Jazzy must also feel extra lucky to have so much to explore and a homemade cat climber to play on!
Thank you so much for creating such a wonderful environment for Jazzy to spend his days and for choosing adoption as your first option.