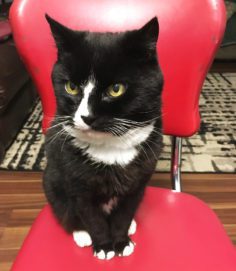 Adopting a pet means being prepared to take care of them for years and going through all the ups and downs in life together.
Heather adopted Jasper from the BC SPCA North Cariboo District Branch in Prince George when she was attending university. Jasper was a kitten at that time and he's turning 19-years-old in 2019, which is considered to be quite old for a cat.
Heather takes great care of Jasper, who has developed health issues in his senior years. She makes sure he's comfortable and continues to be showered with love.
Here's what Heather had to say about Jasper:
 He has been the most amazing companion to me and is easily my best friend, particularly as I have had him now for just under half my life.
Jasper is the snuggliest cat I've ever known and is always waiting for me on the couch to come sit. Once I do, he snuggles right in and will stay for hours, being very vocal whenever I try to get up.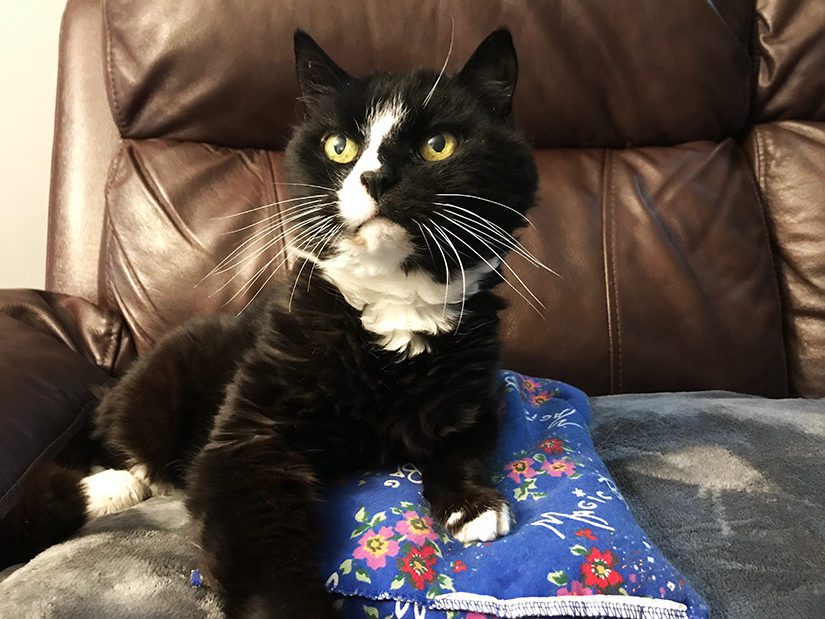 Since he was young, he has been a drool machine and once he gets purring the faucet starts. It goes from drips to long, gross, drool-strings that he occasionally flicks at you when he shakes his head — not his most appealing feature. 
Given his age, he has developed a number of ailments. He has been on special food from a young age for urinary disease. In the past few years he has developed both kidney disease and asthma. You can imagine the looks I get when I tell people I have to give my cat an asthma puffer every day.
While he doesn't have arthritis and is surprisingly mobile, I have bought a few sets of pet stairs so he has an easier go getting onto the couch and the bed and he gladly uses them every time. When it is colder I heat the magic bag in the microwave and put it on the couch for him and he can't get to it fast enough.
He is still happy, pain free and enjoying life, so I continue to do what the vet recommends to keep him his healthiest.
I am so grateful for all of the love and happiness he has brought me over the years. I'm not sure if he'll be around for a few more days, months or a few more years but I'm just so blessed for every day we have together.
We have a running joke that he is the feline terminator because he just doesn't quit ticking. 
Thank you so much SPCA for bringing this crazy character into my life.
Thank you, Heather, for choosing adoption as your first option. Jasper has been your loving friend and part of your family for 19 years. He's able to enjoy his golden years because of the extra care you provide to keep him as healthy as possible.
Have you adopted an animal from the BC SPCA and want to share your joy with others? Submit your adoption story!