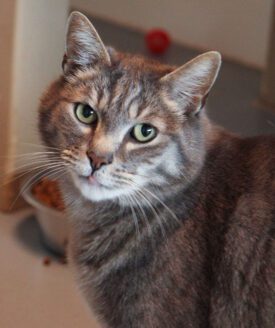 Indy first came into our care as a kitten back in 2008. He was adopted out for several years before he returned to us at the BC SCPCA Powell River & District Branch in the autumn of 2015.
Being back in a shelter can be very stressful for cats. However, we knew that a dedicated family would come along and work with Indy to make him feel safe again.
Luckily for Indy, Sue and her family decided that he was the kitty companion for them. Now, five years later, we have received a little update from Sue:
Indy joined our family almost five years ago. At the beginning, he had some issues with biting, which we all figured out together.
Indy has become the most lovable and cherished fellow. He is a real character at times! We can't imagine our home without Indy now.
Thank you to you and your family, Sue, for adopting Indy and working through his initial problematic behaviour. We know Indy is so grateful for your love and the trust you have built over the past five years. Thank you for giving Indy the second chance he deserved, and for making him feel safe and adored again.
Have you adopted an animal from the BC SPCA and want to share your joy with others? Submit your adoption story!