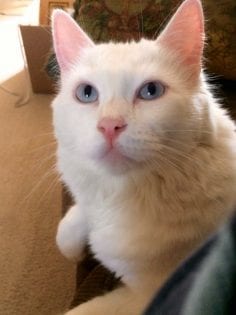 Little iCloud was only a couple of months old when he came under the care of the BC SPCA Sea to Sky Branch in July 2016. We had a lot to learn about this little guy.
As his name might hint, iCloud's fur was a stark white. But he also stood out with his perky pink ears and blue eyes.
We discovered quickly how sweet he was through even the small amount of time we spent with him. Some of his stay was spent at Eagleview Veterinary Hospital as we suspected he might be deaf. So we were trying to find him a home where he could be indoors all the time with guardians who had time to give him some extra loving care and attention.
Less than a week later, iCloud was adopted by his new forever guardian who sent us this update:
Remember iCloud? His name is now Oscar.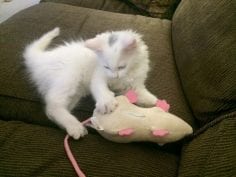 He was said to be mellow for a kitten and possibly deaf. Fortunately he can hear and he has boundless amounts of energy.
It didn't take Oscar long to settle in. Within days he was running around from room to room greeting me at the door and claiming all toys as his own.
Everything is a toy and he does have a favourite app: mouse for cats. At night I put my iPhone in airplane mode and then start the app for him. He will chase and pounce on that mouse for hours before falling asleep.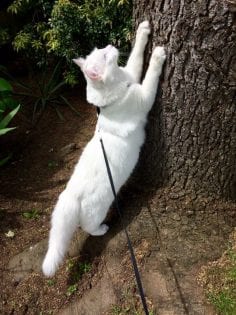 I've enclosed a few pictures of Oscar on his first day and more recent ones to show how he's grown.
He's a lovely guy who now enjoys walks. He's quickly become a celebrity in the neighbourhood. If you're in Lower Lonsdale and you see a white cat with blue eyes walking around on his leash, that's Oscar and I.
Thanks to all who cared for him at Eagleview Veterinary Hospital and the Sea to Sky SPCA.
That is fantastic to hear that we wrong in our suspicion and that Oscar is able to hear just fine.
It sounds like he's been busy with all the playtime that he gets and we couldn't be happier about it. Thank you so much giving him your love and for taking such great care of him, all through choosing adoption as your first option.