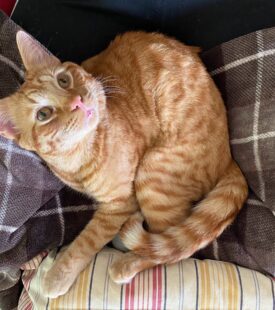 Cats are typically very sensitive and in tune with their surroundings. So, it's only natural that their well-being can correlate with their environment.
When Hobbes was discovered abandoned in harsh weather conditions in Prince Rupert, we knew he needed immediate medical attention. After a couple of months recuperating at the BC SPCA Prince Rupert Community Animal Centre, we transported him down to Vancouver to find his future home.
At the BC SPCA Vancouver Community Animal Centre, Hobbes met his forever guardians. Sophie and her partner were prepared to give Hobbes the quiet, loving home he needed to continue making his full recovery. They adopted him in February 2021 and haven't looked back since.
Now, several months into Hobbes' new life, Sophie has shared an update:
"In December 2020, six-month-old Hobbes was found in a freezing cold backyard in Prince Rupert. After recovering at the local BC SPCA to manage a lung infection, he was transported to Vancouver to be adopted.
My partner and I had recently adopted a different cat at the BC SPCA, but it was a devastating rare case. The cat passed away within weeks due to neurological issues from past neglectful owners. We were heartbroken, but the situation had helped us build a close relationship with our local branch, the BC SPCA Vancouver Community Animal Centre.
The staff soon notified us of a shy but playful orange tabby who had recently joined them from Prince Rupert.
Unfortunately, Hobbes had found the 10-hour drive, surrounded by barking dogs and other animals, to Vancouver so stressful that his lung infection came back. He was looking for the kind of home that could offer a low-stress environment to heal in.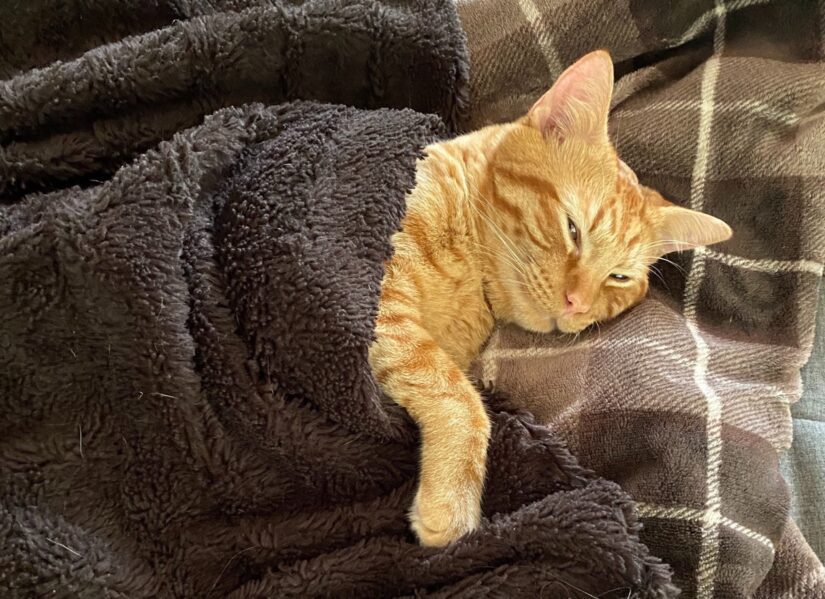 The day we brought Hobbes home was the start of our furever family. Though he was very timid at first, he was still a kitten, so he couldn't resist playing with the plethora of toys he found himself suddenly surrounded with.
Now, his favourite activities include guarding the balcony door against pesky birds, looking cute next to his food bowl to try to get dinner early and sleeping in between us at night.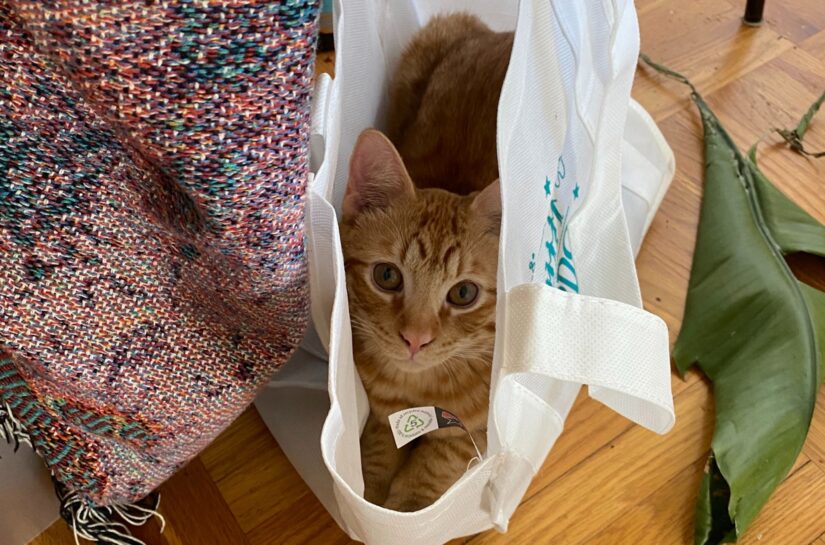 During the workday, Hobbes will surely be cuddled up in my lap as I work. Due to his low-stress environment, his lung infection never came back but his zest for life has definitely renewed!"
Thank you to you and your partner, Sophie, for choosing adoption as your first option. You really did provide Hobbes with the purrfect environment to not only heal but also thrive. We love that he still got to enjoy his kitten-hood with his loving parents and all his new toys. We can't wait to hear about how Hobbes will flourish even more throughout his life with you both.
Have you adopted an animal from the BC SPCA and want to share your joy with others? Submit your adoption story!