This adorable little girl was surrendered with her four beautiful brown tabby siblings to the BC SPCA Williams Lake & District Branch on August 23, 2017. The original owners had too many cats, but did the right thing for these kittens, by keeping them with their mom until they were eight weeks old.
The litter was transferred to the BC SPCA West Vancouver Branch for the best exposure to potential adopters. They spent some time with one of our fabulous foster families until they were big enough to be spayed or neutered and adopted into their new homes.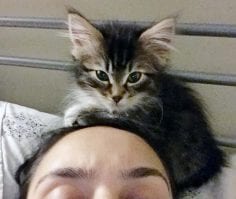 Hazey went to her forever home on October 2. She clearly seems to have adopted her new mom, who wrote to us with an update.
Hazey was brought into my life at just the right time. She has given me so much love already and I've given her back just as much. A special/funny trait is when she bathes the side of her tummy she makes this funny noise similar to a pig. It's adorable! 
She is honestly the best thing that's ever happened to me.
From the look of it, she's pretty darn happy to have found you, too. She obviously likes to be close to you. Thank you for giving Hazey a home where she can give and receive so much love. May this love affair continue for many, many years. Thank you for making adoption your first option.