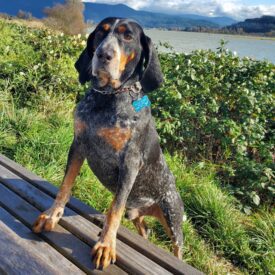 When we adopt a new animal companion into our lives, we want to make them feel a part of the family, but sometimes it takes time to learn the needs and personality of your new pet.
For Robert and his family, this was certainly the case when they adopted Hank, a blue tick coonhound, from the BC SPCA Maple Ridge Branch in October 2017.
Now, three years later, the family has made tremendous progress with making Hank feel happy and comfortable.
Robert has now written to us to share their story:
Hank has definitely changed my family's life. When we first adopted him, he was five years old and full of wanderlust. On our first night, Hank jumped and climbed over our six-foot fence while we were standing right there.
It was a tough first year trying to figure out the best way to keep him from escaping. When we thought we had fixed the problem, Hank sure showed us and found a new way.
Even though it was frustrating, we never gave up on Hank. He loves to cuddle and is such a sweetheart. After a year, he started to figure out that he was in his forever home.
During the second year, Hank settled in much better. He discovered that swimming is the best, no matter the temperature, and after a year of practice he finally learned "sit".
Towards the end of that year, though, Hank started to revert back to his old ways again. While we felt discouraged, we decided he needed a friend.
Once we brought home our 10-week-old St. Bernard puppy, Hank didn't know what to do at first. However, as a little bit of time went on, he became "Mama Hank".
He loved to clean Barney head to tail and he started to really learn how to play—reliving the puppy days that he was probably denied.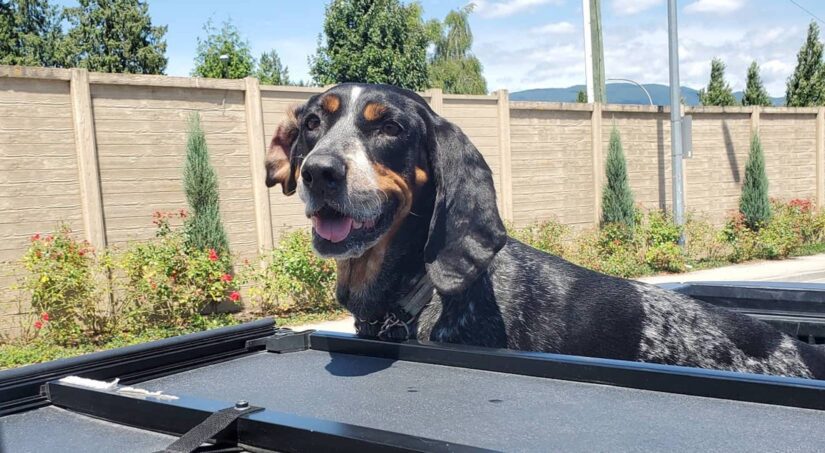 It has been just over a year since we brought Barney home and Hank is a completely new dog. Now, he can be off leash when hiking, comes when called, still loves his daily walks and swims, plays with Barney, sleeps on my daughter's bed and stays in the yard.
We made a commitment to Hank when we adopted him. While it was a rocky road, we didn't give up. He has become a great dog.
Hank is very loved and spoiled. He will be with us forever.
Thank you to you and your family, Robert, for adopting Hank and choosing to do everything in your power to make him a happy boy. We are thrilled to hear how much he has bonded with his new canine brother. Thanks to your commitment and unconditional love, it sounds like Hank now truly feels at home.
Have you adopted an animal from the BC SPCA and want to share your joy with others? Submit your adoption story!