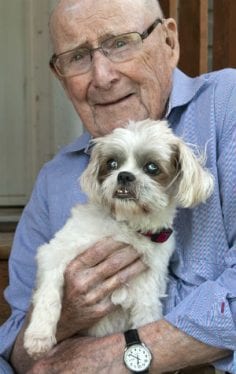 One cold wet morning in March 2014, Gwen was found wobbling up a muddy logging road. Alone, dirty and badly matted, she was brought to the BC SPCA Shuswap Branch to be cared for.
To restore Gwen's physical health, this sweet, senior girl required nutritious food, extensive grooming and veterinary treatment for dental problems. With the generous assistance of Shuswap veterinarians and Clip and Tails Grooming Salon we were able to provide her with this care. All that remained was to find her a loving home to continue her healing.
After a short wait, a lady named Diane came in wondering if we would adopt a small dog to Peter, a senior gentleman who wanted a companion. As soon as Peter saw Gwen, he pronounced that she was beautiful and the match was made. Diane has kindly shared this update on Gwen's new life:
I thought I'd send you an update on wee Gwen, now named Susie. I visited yesterday and she looks amazing! Her coat is beautiful and healthy and her weight is just perfect; not too skinny nor too fat.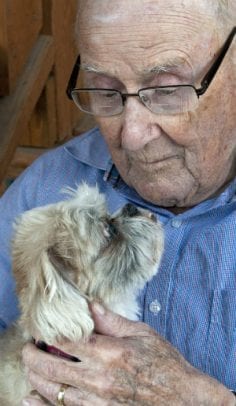 Peter has gradually built her up to walking two 1 km stretches a day and she loves going with him for car rides. She's pretty close to completely deaf and only seems to see shadows and movement. Nonetheless, she gets around just fine in their little home and even jumps up on the rather tall bed.
 
She adores him and he, her. Peter always calls her his "pretty girl". Gwen just came back from the groomer all spic-and-span and apparently enjoyed her time there. All in all, they're doing great. It's Peter's 92nd birthday on the 28th and he already has his best present.
 
Thanks again for saving this little girl so that she can live out her golden years with this golden man.
It's safe to say that Susie is now where she belongs with the love and care she deserves. Thank you to Peter and Diane for creating this VERY happy ending for Susie.