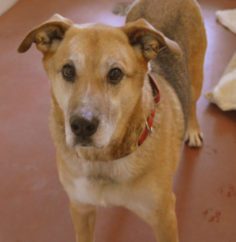 A wonderful tale of the resiliency of the canine spirit.
Gus, a gentle German shepherd and Labrador cross started the BC stretch of his life in 100 Mile House and moved around from shelter to shelter, vet to vet, until he found himself in Penticton.
Gus wasn't in good shape when he first came to us through a cruelty investigation on December 5, 2017. He was dehydrated, needed major dental surgery and showed signs of stress.
But that didn't dampen Gus's sweet, playful, loving spirit. Although shy at first, when Gus got the chance, he loved to roam in wide open spaces and was just as eager to snuggle in his down time.
After a year of rehabilitation and travel, he captured the heart of a discerning family and went home on January 12, 2018. Here is the happy ending to his story, shared by his forever family.
Jeremy and I had decided we would get a dog on January 10, 2018. We quickly looked at the BC SPCA website and spotted Gus, at the BC SPCA South Okanagan/Similkameen Branch in Penticton.
Gus was ten years old, the ad told us, and had been at the shelter for a while. I was heading to Penticton for work the next day so I said I would stop by the shelter and meet him.
I walked in, and was given an application that I could fill out while I met Gus. As he was brought in, I learned that he had just gone through dental surgery (nine teeth removed) and came with a tough past of mistreatment.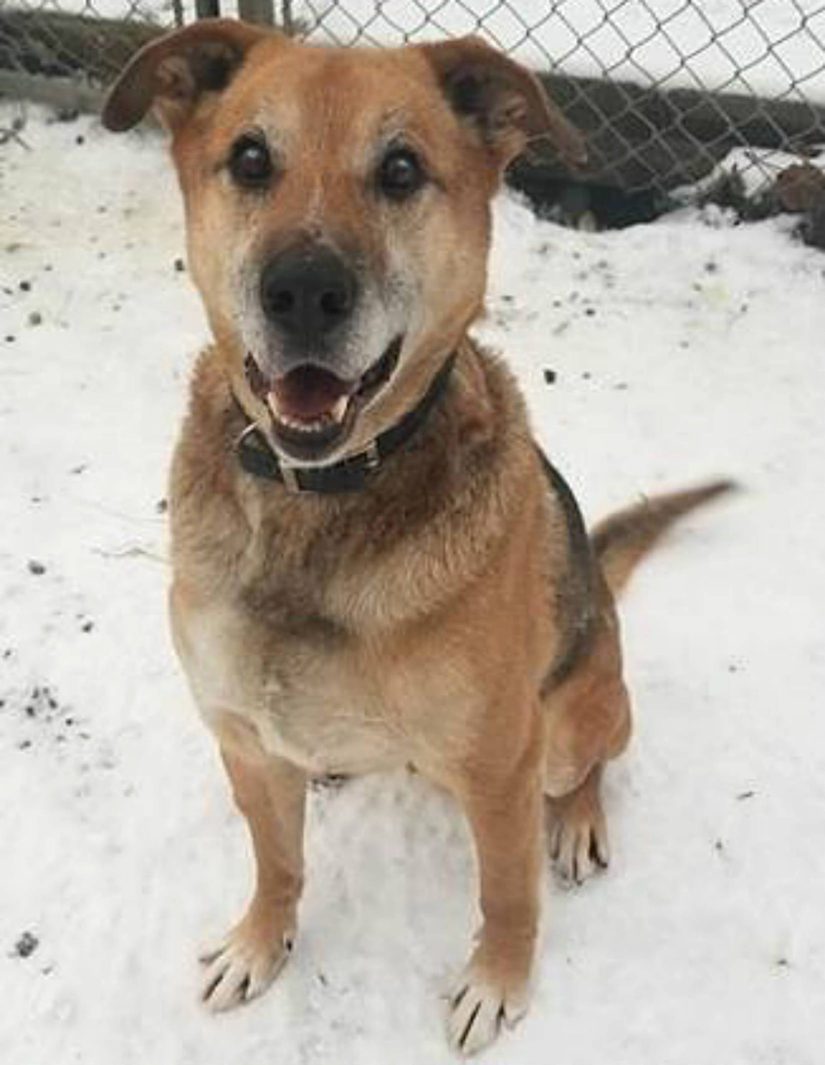 As he sat nervously by me, I learned he grew up on a large property in Northern Saskatchewan that mass bred sled dogs in poor conditions.
Once being seized from the property, he moved west to Alberta, and was seized again two weeks later. Following that seizure, he was brought to the BC SPCA in Northern BC.
During that transition, after ten years, he was given a name. After a lack of interest, they moved Gus to a more populated area, Penticton, in hopes of finding him a family.
He didn't seem too interested in me when I first met him, but he tugged on my heart. The next day, in a complete snowstorm, Jeremy and I drove to bring Gus home.
He sat quietly and nervously in the corner of our car, and didn't dare move for the entire drive. We brought him into our home, and began to show him around.
Within a few minutes, he discovered our bed and began rooting around in the pillows. From that moment on, Gus knew he was home and that the last years of his life were going to be, hands down, the best years of his life.
Currently, Gus is extremely passionate about walks and going for drives and has adopted the protective brotherly role for Georgia, his pitbull cross fur sister.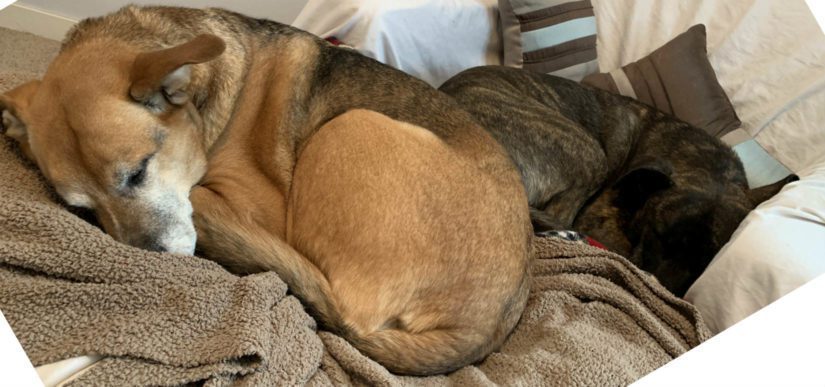 He dances when we come home, moans and groans when we pat him and secretly loves the endless cuddles and hugs he gets. Every piece of furniture in our house seems to be claimed by him, and we are completely okay with that!
It hurts my heart knowing that he had to wait ten years to find a family, but gosh, do I feel lucky that he is in our family now.
We love to see all of our animal charges go to good forever homes and we're especially gratified to find people who appreciate the special gift of adopting a senior.
Gus did wait a long time to find happiness, but it sounds like he wasted no time recognizing his lucky opportunity.
We're glad to know he has found such a loving family, and wish you more happy years together. Thank you for making adoption your first option.
Have you adopted an animal from the BC SPCA and want to share your joy with others? Submit your adoption story!