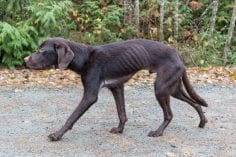 When Gryffin first came into the BC SPCA Nanaimo & District Branch in November 2017, he was dangerously emaciated. We knew he desperately needed medical attention, so we immediately brought him to a veterinary hospital in Nanaimo.
Even with his poor health, Gryffin only had to step into the veterinary hospital to find Caroline and Nik, who instantly fell in love with him. Once they started fostering Gryffin, they knew it would only be a matter of time before they adopted him.
We now have an update from Caroline, who reports that Gryffin is gaining weight, strength, and confidence every day:
We first laid eyes on Gryffin when the BC SPCA Nanaimo & District Branch brought him to the veterinary hospital that I work at with my boyfriend, Nik. Gryffin had been surrendered to the shelter only a few hours before, and due to his condition, they rushed him straight over to us.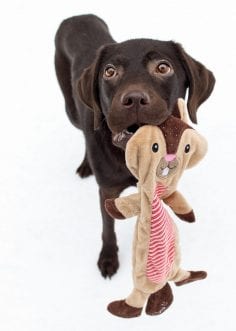 When he entered the hospital, all I could do was stare at his frail body. He was nothing but skin and bones. His fur was rough and patchy. Although he was one-and-a-half years old, he stood only a few inches higher than our knees. Despite this, he walked through the door with his head held high and tail wagging. He was the friendliest little thing and took his time greeting us all.
Due to Gryffin's weight of just 10.2 kg, Nik decided to have a few x-rays done and run some bloodwork on him. Gryffin was an excellent patient and his results were just as good. There was nothing clinically wrong as far as we could tell besides a vitamin B12 deficiency, which was likely caused by his malnourishment.
After confirming with the SPCA, Nik and I decided we wanted to foster Gryffin to ensure he would gain weight on a proper diet. That same night, Gryffin found himself cuddled between us on the couch. Little did we know he'd already made himself at home. Adoption was inevitable.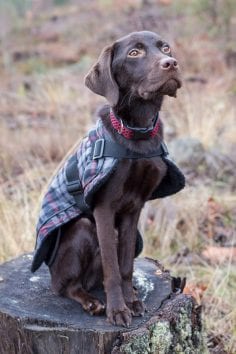 We've had Gryffin for a little more than a month now and he's already gained 6 kg (13.2 lbs). When we first brought him home, he had to wear a jacket when we were out in public to avoid unwanted looks and comments from people unaware of his story. Now, he doesn't draw as much attention.
He used to have trouble keeping up with us on walks, going up the stairs to our cabin and jumping up on the bed due to lack of muscle. Today, he spends most of his walks running or trotting happily beside our dog, Zak. He is now a true Labrador—full of energy and eager to please!
Gryffin is the happiest little soul despite everything he's gone through. We could all learn a lot from him.
Thank you for choosing to adopt Gryffin and for giving him a second chance at life. We are so happy he found you.