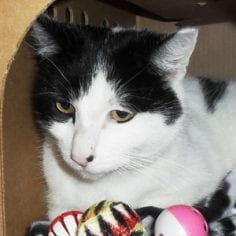 Eggnog was such a handsome cat when he was brought in to the BC SPCA North Cariboo Branch in December 2012. He received a clean bill of health despite having been abandoned by his former family for almost a whole month.
Although initially made available for adoption, Eggnog was placed into foster care over the Christmas holidays so that he could receive lots of attention while families were at home enjoying time off.
It turned out that Eggnog need not look any further for a forever place to live, his foster family had already made up their mind and so had he. Eggnog was formerly adopted not long after making himself at home and has been happy ever since.
His family has written us about how he is doing, his new name, and how he's getting along with his kitty friend.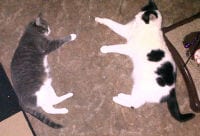 Initially I set out to foster Jack over the Holidays. I went to the SPCA on December 21, 2012 to pick an animal. Little did I know one would pick me!!
I met Jack first, we had a little interaction and as I leaned over to pet a little kitten named 'Joseph' who was in the kennel below him, Jack started rubbing my head with his. My decision was made for me!! I also knew at that point I would adopt him rather than 'just' Foster him. I'd actually renamed him before I even got him home!!
Initially I was a little worried as to how my resident cat, Sally would react. She was almost 14 at the time and had been an 'only child' since we lost her friend Lucy back in 2010. Sally and Lucy had been together since the day I brought Sally home back in 1999. After a slow introduction I was amazed at how fast they took to each other!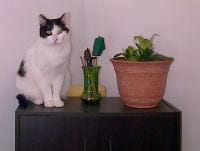 Within weeks they were playing like they were true brother & sister. Their favourite game now is "Queen of the Castle". Sally sits perched upon something, usually my bed and Jack runs by daring her to catch him. Then of course there is the daily races around the house. Sally being the pursuer. Now that is hilarious to watch as Sally is only 6 lbs. and Jack is 12 lbs.!!
The only challenge I've faced with Jack is his tendency to scratch where he shouldn't! With a little patience on my part that is becoming less of a problem. If he scratches on the carpet I just say 'no' and then move the scratching pad to where he had been scratching.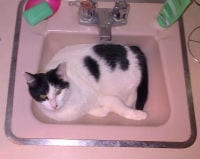 He has the adorable habit of drinking from the bathroom faucet. Almost every time I go in there he's hot on my heels and jumps up on the counter. One day I guess he got tired of waiting for me. I went into the bathroom and there was Jack curled up in the bathroom sink!!
Adopting him was the best thing I've ever done.
We're so happy that Jack and Sally can be there for each other after they've both been through hardships. It's great to hear Jack is up and about playing with Sally and we absolutely love the pictures of him and them together. Thank you for making adoption your first option.