Dear Dwight went through a few homes before she found her forever people.
This gorgeous, long-haired grey tabby showed up at our BC SPCA East Kootenay Branch shelter twice before she found her match.
The first guardian could not find pet-friendly housing. The second surrendered her because she followed her feline instinct to chase wildlife, as most outdoor cats will.
But Dwight's friendly personality kept shining through to potential adopters.
On November 20, 2019, only four days after coming into the shelter for the second time, the people who could provide Dwight with what she needed walked through the doors.
After four months in her new home, Dwight's guardians send this update on their life together:
Dwight has been such a great addition to our house the past few months. She loves to eat…anything. We learned very quickly that we have to put all food away at night or she will get into it.
She also loves water. She always plays in the sink with the water running when we are getting ready in the mornings.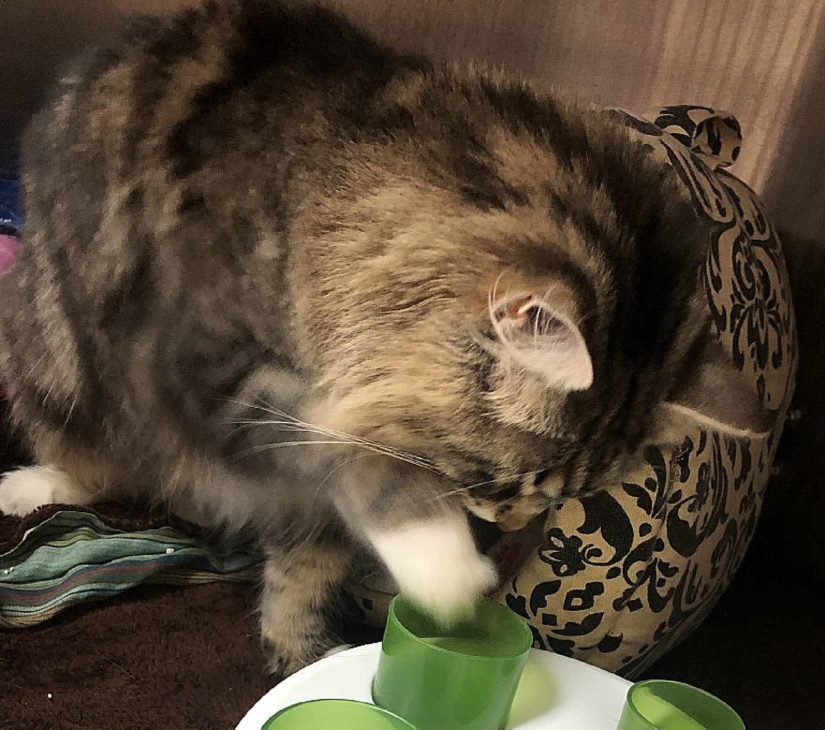 At night she loves to come and snuggle up with us under the blankets. She is such a sweet kitty and we're so happy to have her!
We're sure glad to see that Dwight has found her right match.
It looks like you've provided her with an enriched life that allows her to live happily indoors, where she's safest. She even gets to hang out in special places, like your guitar case! Thank you for choosing to adopt. May you and Dwight continue to make beautiful music together for many years to come.
Have you adopted an animal from the BC SPCA and want to share your joy with others? Submit your adoption story!