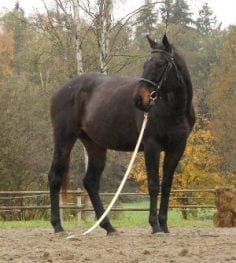 Duke came into the care of the BC SPCA with four other horses following a cruelty investigation in February 2015. Once in the care of the BC SPCA Surrey Education & Adoption Centre he was found to be a big puppy dog. He was very easy to catch and handle and was beginning to regain weight and his health. This upward trajectory of his life continued when he was adopted into a new home. His guardian has now written with an update on Duke, re-named Darius:
I am very new to horsemanship and riding. I am very fortunate that one of my best friends is not only a horse trainer, but she works at an amazing place called the Grene Wode in Langley that boards horses. I started taking riding lessons in the early spring of this year and I just felt so right with the horses. I was not intimidated, I was comfortable and aware and simply enjoyed my time with them, whether mucking stalls, grooming or just being around them. Being exposed to all this horsey stuff made me think… one day! Little did I know that day would be as soon as it was.
I have visited a few sites on social media for horse rescues, including the BC SPCA and one day there was a little blurb about this off-the-track, tattooed, Thoroughbred Racehorse named Duke. I looked at the photos and read up on the bit of information that was posted about him and wanted to meet him, but I had to go through my trainer first. She had seen a couple of other blurbs I had sent her, asking about confirmation, what should I be looking for for a first time horse owner with very little experience, etc. and this time she said 'I have seen him before through a rescue/seizure and I have always liked the look of him. Let's go meet him! (but with a cautionary comment about us just 'looking'; typically a new rider and Thoroughbred do not mix).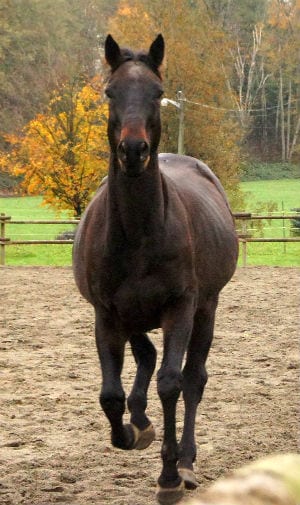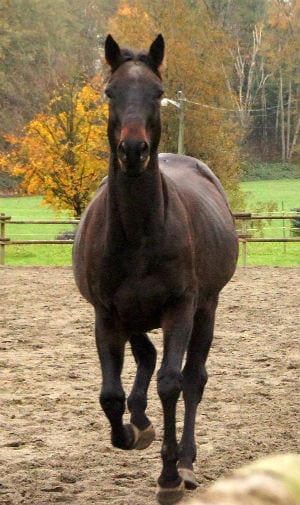 She contacted the BC SPCA on my behalf, letting them know about my limited experience, her vast experience, where the horse would be boarded, what training plans she would have for him, etc. It took a couple of weeks to hear back, but we finally got the go ahead to come out and meet him. The drive out was nerve racking to say the least. I knew I had to trust her 100% on any finding she had, but it just felt so right to me, this big handsome fellow becoming part of my family.
We met up with the staff member that my trainer had been in touch with and she led us to Darius (Duke). I took one look at him, asked if it was ok for me to go into his stall and get to know him and that was it for me. I walked up, basically put my arms around his neck and leaned into him, and he did the same thing back. We just bonded quietly together for about five minutes (he loves when we breath into each others nostrils). Then we took him out to walk/trot on the lunge and see how he moved.
There were a few issues (considering he had been seized not once, but twice for neglect, not a surprise) but my trainer said from what she could see, they were all things that with time, patience and hard work, he would be a fantastic horse for me. She had no idea just how perfect and neither did I.
That was almost five months ago and Darius and I are learning together and it is something so special I can't really describe it. He is calm, kind, patient with me and I have all the love in the world for him. He is a big, chill, lovable, goofy fellow that just wants to please. He loves to be groomed, is so attentive on the lunge line and loves to run for a bit in the outdoor arena once his work is done. My favourite thing to do with him is to take him out on the sand before I groom him, because he loves to roll while on the lead (I learned my lesson about not grooming him first). I have only been in saddle a couple of times at this point (working on some hind end issues) and he gets stronger all the time. I can only see great things to come with this tall, handsome fella of mine!
A little side note: I had no idea how special that first meeting with Darius was until I volunteered to work with other horses at the BC SPCA. As much as they have a similar history and I love spending time with them (mucking stalls, grooming, walking, etc), it just isn't that instant connection I felt with my Big D!
Thank you so much for sharing this unique adoption story with us. We are so grateful that Darius is now receiving all the love and care that he deserves, thank you for making adoption your first option.