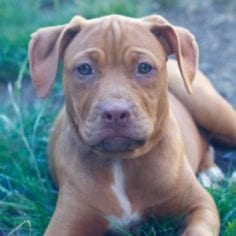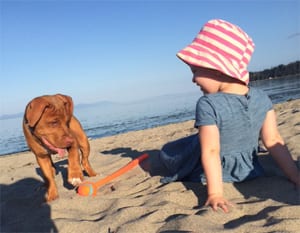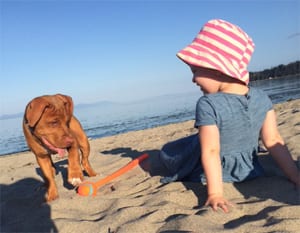 Donna was surrendered to the BC SPCA Comox Valley & District Branch in July, 2016 along with her mom and siblings because her previous guardian had too many dogs and was unable to care for them.
Donna was only two months old when she came into our care and immediately we could see what a sweet darling she is. With her youthful good looks and happy-go-lucky attitude, we knew Donna wouldn't have to wait long to find a great forever home.
Donna was adopted by her new family later in July, 2016 and soon after she was settled in her new forever home. Her guardians have sent us this update to let us know how Donna is getting on: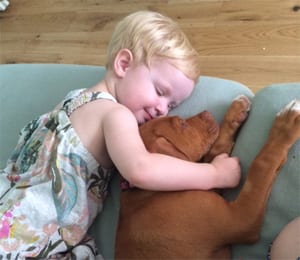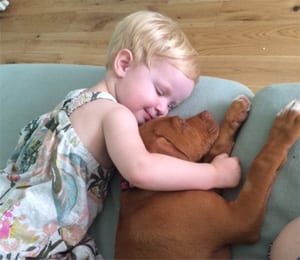 We adopted puppy #8 of Miley's litter in July, 2016 from the BC SPCA Comox Valley & District Branch. We've named her Donna after the redhead from "That 70's Show", and we are in love!
She is the best friend to our 2-year-old daughter and the two are as thick as thieves. She goes pretty much everywhere with us and loves everyone and every dog and cat that she meets. She is just so full of love.
Donna so incredibly gentle and sweet with kids, it's really quite amazing to see her with them. She loves snuggles and kisses and might be the best cuddler ever. She loves to play catch and is a real beach bum too. We are working on her leash manners but she is a social butterfly so she loves being out and about.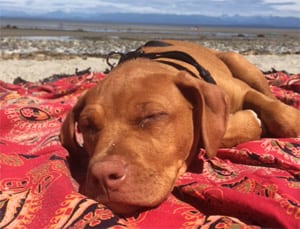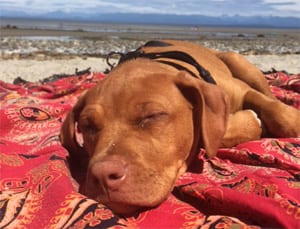 When our last dog passed away in September we just weren't sure if we could get another dog because we were so heart broken, but we are so happy we did. This is our first puppy as all our other dogs were adult rescues, so this puppy stage is extra special. We've taken thousands of baby photos and try to document all her firsts.
We are so excited to watch her and our daughter grow up together, as they already love each other like sisters. Thanks for rescuing her and her siblings and mom. Now that we have her, we realize we wouldn't be a family without her.
We are very sad to hear about your dog who passed away in September, but we are also so happy for Donna that she has found such a loving family complete with a human big sister. Thank you so much for making adoption your first choice and providing Donna with a second chance to have a great life.