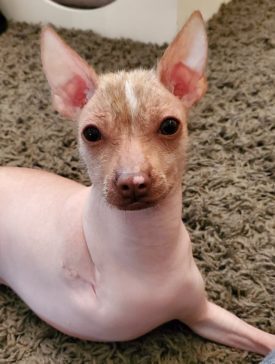 Dobby was just five months old when he came to the BC SPCA Kamloops & District Branch with an old leg injury. After undergoing surgery to amputate his leg, this little Xoloitzcuintli adapted beautifully to his new three-legged life.
Meanwhile, Suzette was doing her best to patiently await news of when Dobby would be available for adoption.
When the call came in, Suzette drove two hours to meet and adopt Dobby in February 2020. Since then, they have become absolute best friends.
A few months on, we have received Suzette's story about Dobby:
From the first moment I saw this little hairless baby, his paws imprinted themselves right into my heart. I knew he was meant to be with me.
Dobby is an incredibly special little guy. I was told he was surrendered and he was due to have surgery within a few days to amputate a limb. Waiting to hear back felt like forever. I needed to find out how he was healing and adjusting to his new disability.
I had my adoption application ready for the moment Dobby would be available. I became almost obsessed, checking the BC SPCA website hourly to look for updates. Then it happened—I got the call!
The drive took a couple of hours to get to him, so we arranged to meet that coming weekend. I was beside myself with excitement. I didn't know how I was going to make it through the next couple days.
In my heart, I knew I wasn't only going to meet Dobby. I could not wait to bring my little furless baby home with me.
I signed the adoption papers two days later. As soon as we met, we bonded instantly. He snuggled right up with me for the long ride home and has stayed by my side since.
Dobby is a spry little guy who definitely had a rough start in life. Initially he had a little trouble getting around. He is now eight months old and still a little clumsy at times, but he has adapted wonderfully to only having three legs.
Dobby is incredibly smart, has limitless energy and a very sassy but goofy personality. I could not imagine my life without him.
Thank you, Suzette, for adopting Dobby and making him such a big part of your life. Sometimes we can't deny the bond we feel before even meeting an animal in person. It's clear that you were meant to be in Dobby's life and give him his forever home. We wish you many more years of loving companionship together.
Have you adopted an animal from the BC SPCA and want to share your joy with others? Submit your adoption story!