DJ and Buttercup were young rabbits when they were brought to us at the BC SPCA Vernon & District Branch in January, 2015. The previous guardian of this brother and sister duo sadly could no longer care for them and surrendered DJ and Buttercup to the branch.
Both DJ and Buttercup are very affectionate and easy going rabbits that love human attention. We really wanted DJ and Buttercup to find a home together, and were so happy and relieved when they were adopted as a pair.
DJ and Buttercup are now known as Halo and Kaia and have had nearly two years to settle into their new home. Their guardian has sent us this update to let us know how they're getting along:
I adopted two rabbits from the BC SPCA Vernon & District Branch at the end of January, 2015. DJ and Buttercup are now known as Halo and Kaia.
Before my adoption story began, I had two beautiful bunnies named Chewy and MarTeeny. Chewy was a harlequin cross and Teeny was a mini satin. After losing Chewy on January 9, 2015, I was devastated and sad for my Teeny girl. She was so in love with Chewy, I knew I couldn't wait too long to find her a new friend.
I decided I'd just take a look on the BC SPCA website. I went on the site every few days until I came across an adorable English spot cross bunny boy, named DJ. I learned that he was brought in with his sister, Buttercup, and I immediately fell in love with them.
I was concerned about bringing two rabbits home to MarTeeny. I didn't want her to feel like she was the odd man out, but I just couldn't split those two up! MarTeeny was also getting on in years and I just didn't know how long she would be around. Taking the two of them just felt right, so after the spay and neuter I was able to bring the babies home.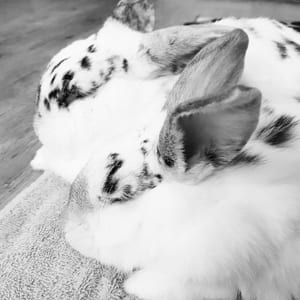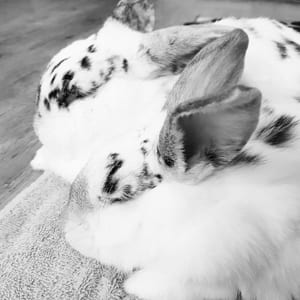 I have bunny proofed my living area and a side room equipped with potties and hay etc. My bunnies are never caged, but we did have to separate the three of them while they were healing from their surgeries and going through the bunny bonding process. We were making good progress until MarTeeny got sick.
Sadly, a few months after bringing home the new bunnies, we lost MarTeeny to pneumonia. It was very hard to lose her and Chewy so close together, but Halo and Kaia give me so much love. I know that I was meant to find them.
They love being free buns. They are very curious and love to explore. When the weather is nice they enjoy their outside time, but when it's time for one of their 18 daily naps they prefer to be in their living room snuggled together under or behind a piece of furniture.
My niece and nephews love coming over to visit the bunnies. They are extremely affectionate. They are truly just little fluffy angels. Angels that chew on my couch.
Thank you BC SPCA. I will always adopt.
We're so sorry to hear about the loss of your rabbits Chewy and MarTeeny. We're so glad that Halo and Kaia have been there to help ease the transition and to bring some fluffy happiness to every day. Thank you so much for making adoption your first choice and giving Halo and Kaia the chance to live a happy and loved life together.