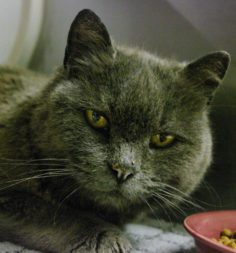 Somewhere along the way, darling Dinah may have had a home, because she had an old, unreadable tattoo in her ear. But judging from her state when she turned up at the BC SPCA Kamloops & District Branch on October 29, 2016, it had not been for a long while.
Thanks to a caring citizen, who found her wandering around the woods by Bridge Lake near Delta, fourteen-year-old Dinah was given a chance at finding a safe retirement home.
And that she did, with a young adult in search of an older adult feline to love. When this good soul walked into the cat room at the shelter, Dinah made herself known in no uncertain terms and earned a trip to her new home on November 13, 2016.
Here is the heart-warming story of Dinah's retirement years, sent to us by her guardian:
Three years ago my mother shared the local BC SPCA "Caturday" post to my Facebook timeline, saying that the cat in the post looked like my late cat, Jake.
I was only 19 at the time but one thing I wanted to do once I turned 19 was adopt a senior cat from the BC SPCA. I had been looking around for a little while and then saw her face and knew I had to meet her.
I went to the BC SPCA and wandered around their cat room for a little bit. There was this one adorable cat I noticed upon entering the room and I was talking to it when all of a sudden I heard something yowling. It was the equivalent of a cat yelling at me.
Regardless to say it got my attention, so I looked down and saw this scruffy old feline staring up at me, almost like a challenge. I knew this was Dinah, so I squatted down to look at her and instantly she started headbutting the bars and purring so loudly it drowned out the rest of the room. It was love at first sight.
I immediately went to the front desk to fill out an application to meet Dinah. The moment I mentioned Dinah the lady didn't even wait for me to finish the paperwork but instead took me back into the cat room, shut the door so I had  the room all to myself and she opened Dinah's cage.
Dinah all but jumped into my arms. I wore black that day and left with a fur coat.
She wandered around the room but when I called to her she came charging back over and the lady said she'd never seen Dinah move that fast. Needless to say I filled out the paperwork, met all the criteria and home we went.
Dinah had osteoarthritis and kidney issues. She also had fleas, so we got her a spa day where she was shaved and washed and then a date with the vet.
Dinah turned into a brand new cat. She was already full of love, but now she was in good spirits and good health.
She would come charging up to greet anyone who entered the room,  join me on late night adventures to the kitchen and one could never go to the bathroom alone or she'd scratch at the door. It was near impossible to take a picture of her because she'd always run towards you.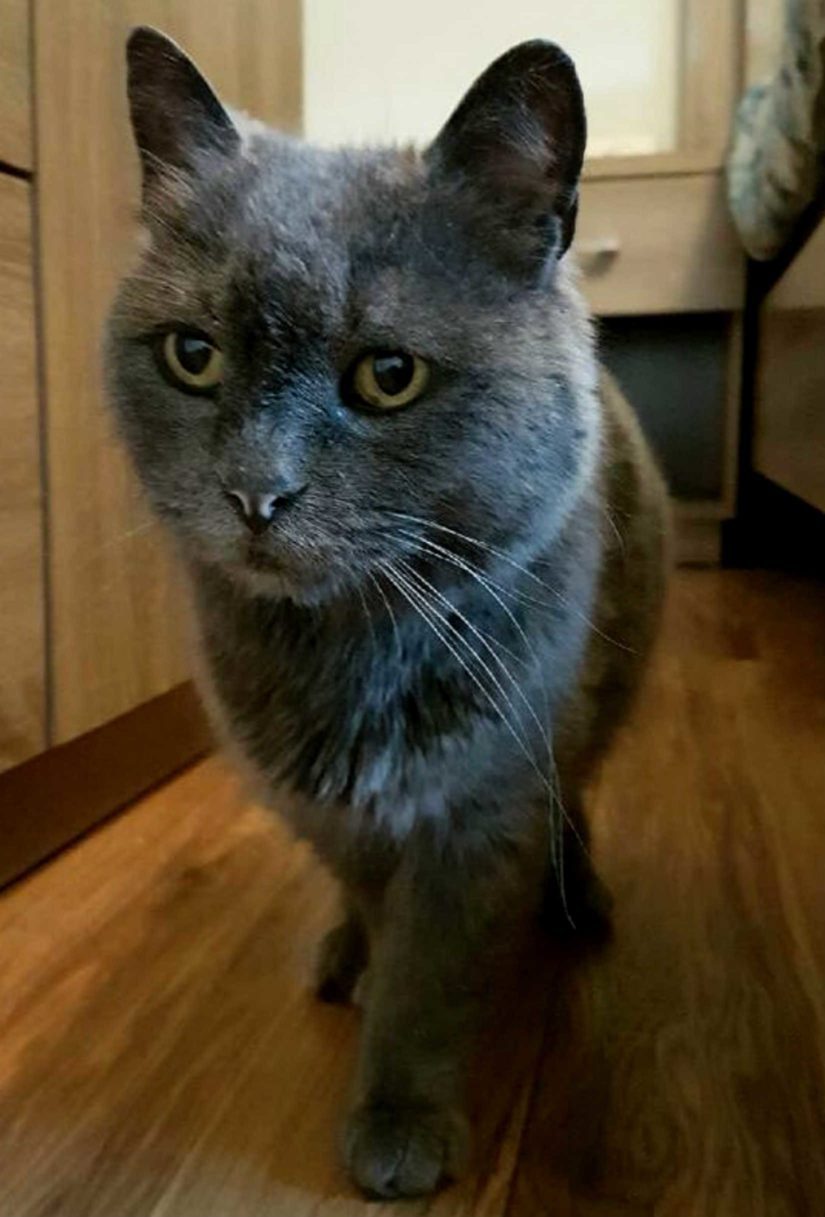 I was told she needed a palliative care home and that she maybe had a few months left when I adopted her. We had almost two years together before she died and she likely would have lived longer but there were complications following a routine teeth cleaning recommended by her vet.
That night she slept in her plush bed at the foot of the bed (she couldn't jump up on the bed and wouldn't use the stairs or ramp we got her) and went to sleep forever.
I don't know anything about the beginning of her life, only that she was found at a lake as a senior cat, but I do know she was spoiled rotten and well loved in her time with us.
I grew up with cats, but I never knew how much I could love one until I met Dinah.
What a heartwarming story! Thank you for the comfort and joy you brought to Dinah in her final years. It is clear from your story that senior animals make great pets. We hope to see you again at our shelter when the time comes for you to bring more animal joy to your home.
Have you adopted an animal from the BC SPCA and want to share your joy with others? Submit your adoption story!