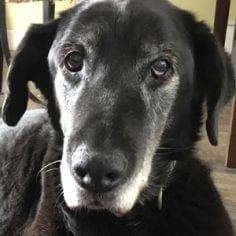 Daisy Mae came into the care of the BC SPCA Maple Ridge Branch when she was 10-years-old, after she was impounded by an animal control officer back in March of 2014. She arrived with some medical needs, but was a happy and sweet senior girl.
While seniors can sometimes take longer than other animals to find their forever homes, Daisy Mae only waited 15 days for her new guardians to take her home and love her unconditionally. Daisy Mae was adopted April. 8, 2014 and has been with her family now for about three years.
Unfortunately, Daisy Mae was recently diagnosed with cancer, but her guardians are making sure every moment of her time with them is filled with love. They recently sent us a note on the story of Daisy Mae, and her life today:
Last month we learned that Daisy Mae has cancer and we are not sure how long she will be with us. I wanted to write her story while she was still with us.
Daisy Mae came into the Maple Ridge shelter with a urinary infection due to the fact that she had been leaking for a very long, long time. She also had a three to four inch portion of a stick lodged at the back of her mouth. It had been there for such a long time that the ends had started to meld into her gums and, as our vet told us, she was no longer exhibiting any pain or discomfort. We had to have two of her teeth removed because of the damage caused by the stick and she is on permanent medication for her leaking.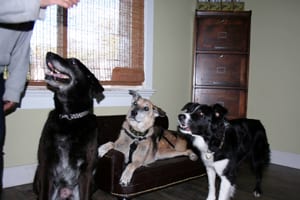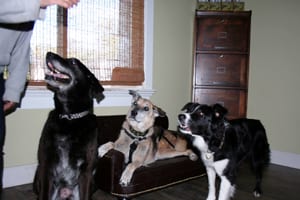 We have had many foster dogs and adopted dogs join our household in the last 16 years. Daisy Mae is the first we have had that has decided she doesn't really care what we want and is fearless. She has a bucketful of happiness inside her ailing body. We hope that we were able to have Daisy Mae live a lifetime in years she was with us.
At 11 years of age, Daisy Mae's accomplishments include classes in nose work, has helped us foster over 30 puppies for the BC SPCA and participated in Bite Free classes for the BC SPCA Humane Education Department. She has never gotten enough walks or car rides and is now sharing the dreaded cancer with one of her canine brothers. Her tail wagged enthusiastically when she came to us three years ago and it is still wagging. She is JOY.
Thank you for sharing such a heart-warming story. Daisy Mae is a special girl full of wonderful accomplishments and you all are special guardians!
We're so sorry to hear about the current situation, but it sounds like you have provided such a comfortable and positive forever home for Daisy Mae and also for her fur siblings. We're glad that she makes you and many others just as happy as you definitely make her. Thank you for making adoption your first choice, and for giving this lovely senior such a great life.