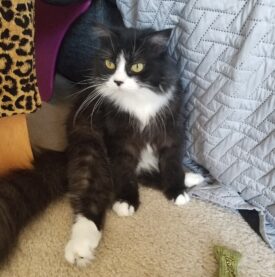 Ashley and her partner met Crumb at the BC SPCA Vernon & District Branch in February 2020. This felt like a match made in heaven.
Crumb's sweet personality, adorable meows and golden, soulful eyes were too much to go unnoticed.
It was Valentine's Day when Ashley and her partner adopted Crumb, which perhaps was a hint of just how much love this kitty was capable of giving to her new guardians.
In the few months since her adoption, Crumb has brought a renewed energy and light heartedness into the lives of her new family.
Now, Ashley has written to us with an update on how Crumb is settling in at home:
We adopted Crumb on Valentine's Day this year. We love her so much.
Crumb has a wonderful, chatty personality and she loves to snuggle with us at bedtime. She has funny little raspy meows and squeaks, which we adore hearing. I always find her sleeping and bathing herself in acrobatic positions.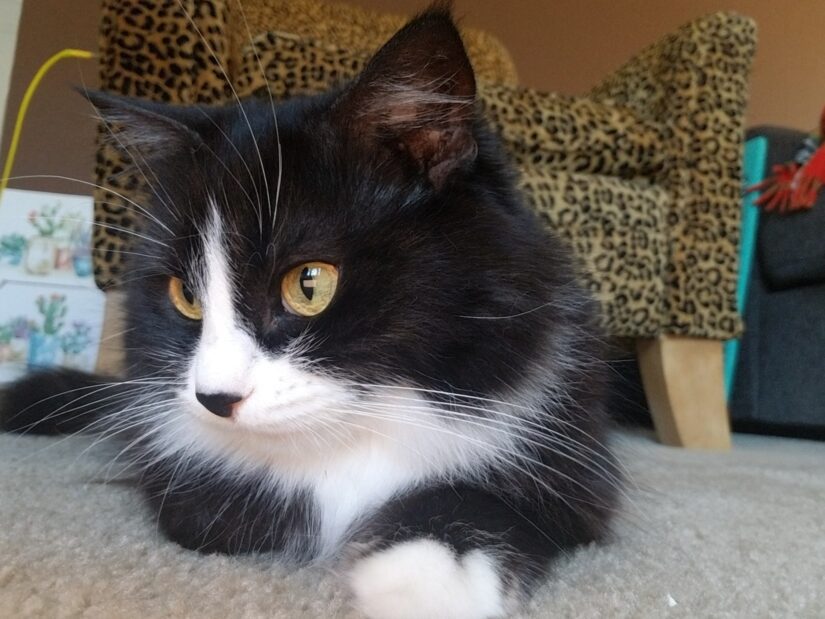 We bought a tall cat post for Crumb so she can watch over her kingdom from the living room. She loves watching the birds eat from the suet feeder from her high perch.
She knows where the treat jar is in the kitchen and will sit while patiently waiting for a snack.
We love Crumb very much and we're so happy to spoil her and give her a loving home.
Thank you to you and your partner, Ashley, for choosing adoption as your first option. We can see just how happy Crumb is that you spoil her and love her so much. We wish all of you many more years together filled with the sweet melody of Crumb's raspy meows and fluttering birds for her to watch.
Have you adopted an animal from the BC SPCA and want to share your joy with others? Submit your adoption story!