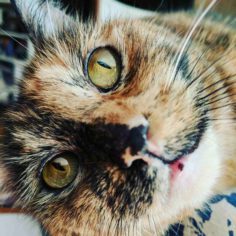 This beautiful tortoiseshell kitty was waiting for her forever home at the BC SPCA Burnaby Branch in 2009 when she readily leapt her way into the hearts of a young family.
Crash charmed this family so completely that she went home with them on September 10, 2009. Here is their story:
We went to meet Crash at the BC SPCA Burnaby Branch. We opened up her cage and she leapt out with her paws stretched and wrapped around my neck as if to say "Thank you! Thank you!" Both my kids said at the same time, "Oh Mom, that's the one!"
I put her on the floor and immediately she started playing with the cat toys around her, no fear whatsoever.
Crash is very special to us and has been a great comfort to our family.
We call Crash our hospitality cat. When there are guests or certain family members like grandmothers visiting she always makes them feel special by cuddling with them.
Crash likes to go for walks in the morning with her dogs and hang out when we are gardening (she loves her cat mint).
She is sassy, playful, demanding, watchful and protective, and full of tortitude.
Crash is the best cat ever.
What a well-rounded personality Crash has. She sounds like a perfect fit for your family.
Thank you for making adoption your first option. It's our goal at all 36 of our shelters across the province to help each of our adoptive animals find their own perfect match, as you have found yours. We wish you many more years of health and happiness with your girl.
Have you adopted an animal from the BC SPCA and want to share your joy with others? Submit your adoption story!