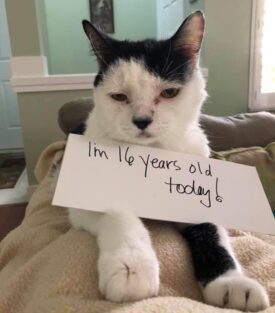 Sometimes we can't quite describe the connection we feel when we first meet our meow mate. We know they are meant to be in our lives, so we don't even hesitate to sign the adoption papers.
For Jim and Heather, there was no doubt in their minds that Cosmo was the cat for them.
When they brought Cosmo home from the BC SPCA Surrey Education & Adoption Centre in September 2004, he was just a tiny kitten.
Now, 16 years later, Cosmo is happily living out his golden years in his forever home. Jim and Heather have now shared their story with us:
The day we visited the BC SPCA Surrey Education & Adoption Centre, I saw this tiny black and white kitten with a big head, small body and huge paws. I fell in love with him and I knew that he would be our forever fur baby.
We brought Cosmo home and he settled in quite nicely.
Everyone who meets Cosmo absolutely loves him. He is a calm and gentle kitty who loves to play with his basket of toys.
Most mornings he wakes me up at 4:30 am. I usually find him laying on my pillow, tapping my face with his paw. It's his way of saying he wants his breakfast.
Over the years, Cosmo became overweight. Even though we had him on a low calorie diet, it was still a challenge to keep the weight off.
He was 12 years old and a whopping 23 pounds when he was diagnosed with diabetes. I was absolutely terrified to give him his insulin, but he was such a trooper and made it easy for me.
Cosmo loved food so much that while he ate, I would inject the insulin and he wouldn't notice—such a good boy.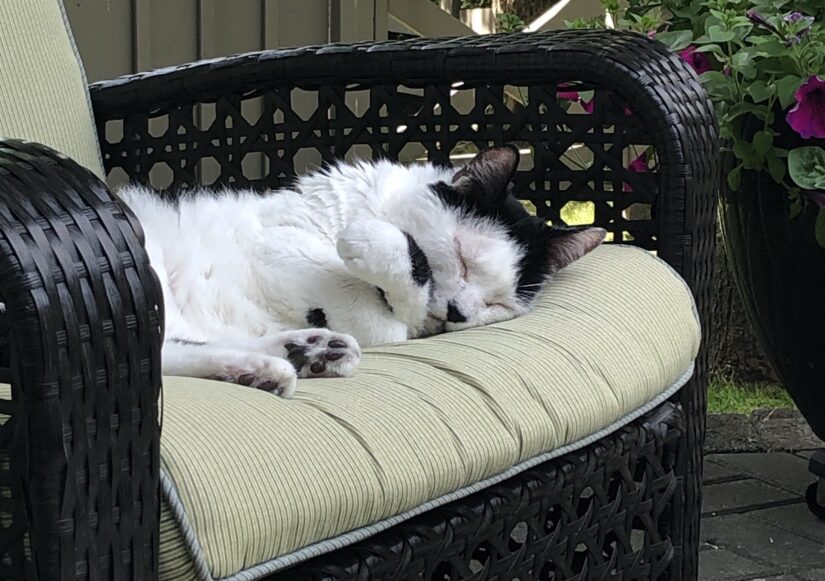 Cosmo is now 16 years old. He weighs 14 pounds and has been in remission from diabetes for over two years. He goes for regular check ups at the veterinary hospital and every three months he gets blood tests done to check his thyroid.
Cosmo's doctor and technicians love seeing him because he is an excellent patient. While taking his blood, he lays there purring and kneading, enjoying the attention that they are giving him.
Cosmo is now living out his senior years. He loves relaxing outside on the patio with us, trying to have a cat nap in the sun while keeping his eyes on the butterflies that flutter around him. He also enjoys eating salmon and chicken, which we give him a few times a week.
We are so grateful that he is in our lives and he has brought us so much love. We have especially needed his companionship through the restrictions of the COVID-19 pandemic.
Thank you, Jim and Heather, for adopting Cosmo. It's not easy having a diabetic kitty—we admire your unwavering commitment to helping Cosmo get all the medical attention he needs.
We're happy to hear he is in remission and loving life in his senior years. We are so grateful that you have truly been his forever family.
Have you adopted an animal from the BC SPCA and want to share your joy with others? Submit your adoption story!